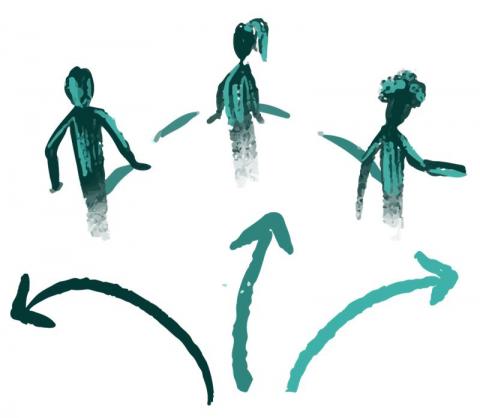 By Otaiba Ahsan
"CareMongering" - a worldwide movement that started as a Toronto-based Facebook group supporting those experiencing fear associated with the COVID-19 virus – can help address socioeconomic vulnerabilities worsened by the pandemic, according to University of Guelph researchers.
Dr. Roberta Hawkins, a professor in the Department of Geography, Environment and Geomatics, and Amy Kipp, a PhD student in U of G's new Social Practice and Transformational Change program, wanted to understand how this global movement is playing out locally. They believe that learning how CareMongering is practised during the pandemic can help communities better meet the needs of community members in the present and during future crises.
"Through local CareMongering groups, we found that many communities were creating new caring connections while also building on existing networks of care," says Kipp. "As part of this movement, people have not only connected to share their resources, skills and information about local services and pandemic protocols but they're also talking about why this type of care was needed in the first place."
The team found that CareMongering groups have made positive impacts in their communities in response to COVID-19. CareMongering members have organized locally to ensure that vulnerable groups have access to food, housing, health care and other necessities.
They've also found that practicing CareMongering can be hard work, which requires a lot of emotional labour on group organizers. Additionally, CareMongering groups can go beyond meeting the basic needs of community members to create community solidarity and highlight structural issues impacting existing socioeconomic disparities within Canada.
Hawkins and Kipp used several methods to explore this movement, including a Facebook and Twitter analysis of CareMongering groups and tweets using the #CareMongering hashtag. They also undertook a case study of a CareMongering group in Ontario and interviewed organizers of these groups in diverse communities throughout Canada.
The researchers are now sharing the study findings through infographics for CareMongering Facebook groups and writing accessible, peer-reviewed articles.
Hawkins and Kipp have extensive experience using feminist and qualitative research methodologies to explore everyday practices of social change, an approach they have taken for this project.
"We hope that our findings will benefit those practising community care and, as a result, support community members who are most at risk of experiencing the negative effects of the pandemic," says Kipp.
This research is supported by the University of Guelph COVID-19 Research Development and Catalyst Fund.