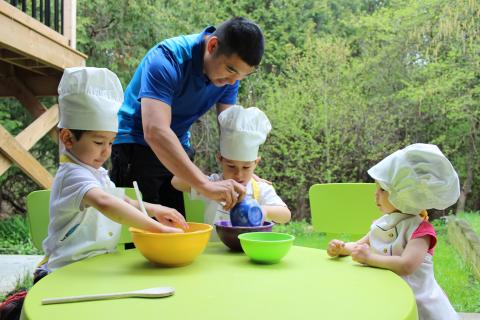 By Dianne Priamo
University of Guelph researchers from a wide range of disciplines are immersed in one of the longest-term studies ever undertaken by the institution – the 20-year Guelph Family Health Study. It's designed to help families improve their health through better food, activity, leisure and sleep, with the ultimate goal of decreasing chronic disease risk, now and in the future.
The team is working with over 300 Guelph area families, and hoping to recruit more, to track lifestyle habits, body composition and genetics. The study takes a future-focused approach – the intent is to follow these families for several decades to give insight into how disease develops.
"We're trying to understand the whole story," says human health and nutritional sciences Prof. David Ma, study co-director, "from childhood to adulthood, and all of the factors involved in health."
In addition to the main project, there are numerous student research studies being completed as part of the GFHS from the data collected. Currently, there are multiple ongoing projects on hot topics like food waste in Canadian households, the use of screen time in parenting practices and the genetics of taste.
This summer the GFHS passed its first five-year milestone. Ma, co-director Prof. Jess Haines, Family Relations and Applied Nutrition, and their team cite five major accomplishments since they launched the program in 2014.
1. New family friendly, health-oriented cookbooks. Four cookbooks have been developed to help families meet the standards of the new Canada's Food Guide while maintaining modern, on-the-go lifestyles.
Each cookbook is backed by knowledge achieved through the GFHS and is curated for a different aspect of healthy living -- healthier snacking, big-batch meal preparation, kid-friendly recipes and increasing fruit and vegetable intake. A fifth cookbook will be released September 24 and is aimed at reducing household food waste.  These cookbooks are all available for free through the GFHS website. You can download your own PDF copy here.
​​2. Where kids get calories. One-third of children's daily calories come from snacking, and snacks are often too sugary.
Through parent-reported snacking records, researchers at GFHS examined the frequency, quality and quantity of snacking in preschool aged children. Their study found that children consume one-third of their daily calories through snacking, and most of these calories come from sugar. Research shows that dietary habits carry into adulthood, so by encouraging more healthy snacking habits in young children, the GFHS hopes to foster the development of more healthy adults.
3. Better fruit and fibre intake. The study's home-based obesity prevention intervention increases fibre and fruit intake in preschool-aged children.
As part of its family health education initiative, GFHS tested a home-based obesity prevention program with ~80 of its family participants. Through food intake records, the families that received in-home health education reported significantly higher fibre and fruit intake after six months of intervention, compared to families who received only monthly emails about the topic. The study demonstrated the importance of a home-based approach to diet intervention as the researchers work to improve diet quality of preschool-aged children.
4. Parents matter to kids' screen time. Media parenting practices and parental device use affect children's screen time – and usually not in the way they intend them to.
Sedentary behaviour in children is on the rise, and researchers have identified screen time as a contributing factor to chronic disease risk. Most studies focus solely on maternal parenting and television use in children, but the GFHS wanted to dig deeper. Their study broadened the research scope to include both mothers and fathers and their effect on mobile media device and television use in children. Researchers concluded that use of screens by either parent to control behaviour resulted in an increase in screen time use in children. Additionally, parental use of devices during mealtimes also correlated to an increase in children's weekday screen use. This means that in order to address the issue of increased screen-time use in children, parental habits are an important consideration.
5. Genes can influence your food choices. Taste preferences are genetically linked, and these preferences affect dietary intake and disease risk in both children and parents.
The term "sweet tooth" may no longer be just a figurative expression. The GFHS has discovered that eating patterns and preferences are connected to the presence of certain genes. Individuals have taste-associated genes related to sweet, bitter, sour and salt, and as a result, their dietary choices are affected. So, a preference for certain tastes such as sweet could translate to a higher risk of diseases like heart disease.
Co-director Ma sees potential for the study to give insight into other diseases, such as the effect of diet on the development of breast cancer in women, a subject in which he is immersed as a researcher.
"We aim to be a landmark study for health promotion and prevention research in Canada and beyond," he says.
Currently, the study is recruiting 100 more families as organizers continue to expand its research capabilities. If you have at least one child between the ages of 18 months and six years and are interested in how you can take part in the study, contact study coordinator Angela Annis at aannis@uoguelph.ca or follow the link to the registration page.
The GFHS study was launched through funding from the U of G's Better Planet Project and a philanthropic donation from Bob and Gail Farquharson. Now, GFHS is funded by 11 different organizations and foundations, both governmental and non-governmental, who are recognized on the GFHS website.
Among the researchers who have contributed significantly to the first five years of the GFHS are  Profs. Emma Allen-Vercoe, Andrea Buchholz, Gerarda Darlington, Alison Duncan, Paula Brauer, Lori Ann Vallis and Genevieve Newton, Lawrence Spriet and David Mutch as well as numerous staff and students. Special recognition to Dr. Michael Emes, former Dean of CBS and Jonathan Guss, Chair of the Health for Life External Advisory Board, for their leadership in the launch of the GFHS.
The GFHS also receives feedback from its Family Council, a team of parents from participating families that offer observations and suggestions to keep the study relevant and worthwhile for all the families involved.