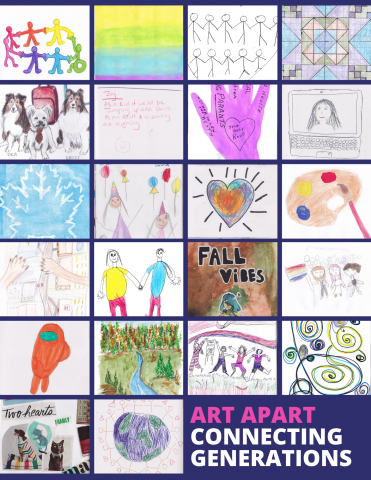 By Caitlin Ford
Kids and seniors – two groups that have been especially vulnerable to pandemic isolation – are getting together through a University of Guelph journaling project.
In summer 2020, Dr. Kimberley Martin, a professor in the Department of History, organized a journal exchange to connect seniors living in long-term care and children living in single-parent and low-income households.  
This project, Connecting Generations, grew from her previous pandemic initiative, Art Apart, an online art gallery featuring creative pieces responding to the pandemic. That earlier project drew submissions from people across Canada; however, Martin noticed the gallery lacked content from two vulnerable demographics.  
"For our initial project, we were receiving submissions from people in the 20- to 40-year-old age range and not from either end of the spectrum," she said. "I've worked with seniors and children in the past, so I knew that outreach was necessary to get them involved." 
She also knew that the pandemic has been exceptionally difficult for residents of long-term care homes under strict lockdown measures to control the spread of COVID-19, and for children who were unable to attend school in-person. 
"These people were stuck at home without an artistic outlet," said Martin. "People in long-term care homes were spending lots of time in solitude when they would normally have activities happening, so we wanted to bridge the gap with our Connecting Generations project." 
To reach these age groups, she teamed up with U of G undergraduate students Rashmeet Kaur and Sophia Lago, as well as recent graduates Michaela Rye and Margarita Wilson. The group assembled 70 blank journals to be mailed to children in low-income and single-parent households and to seniors in long-term care homes across Ontario.  
The journal contained writing prompts related to COVID-19 that invited participants to creatively express themselves. Participants mailed back the completed journals to U of G, where the students scanned them to make digital copies and then shipped them to different participants as a journal exchange between generations. 
The digital copies of the journal pages have been housed on the Connecting Generations section of the Art Apart website since October 2020. Martin says the project has received positive feedback from participants and from community visitors to the virtual gallery.  
"People in the long-term care homes used the journaling activity as a time for them to reflect on their feelings about the pandemic," she said, "whereas parents of our younger participants told us the activity was a good outlet for their kids to express themselves." 
The journal exchange has encouraged creative expression during a time of isolation and has given these individuals a sense of community. 
"Intergenerational exchange is key to promoting mental health in these vulnerable demographics," said Martin. "Art connects generations through what it means to be human, and through the pandemic we are learning that it's these intergenerational experiences that really connect us." 
This project was supported by the U of G Creating in a Time of Coronavirus fund with additional funding and support from the College of Arts.