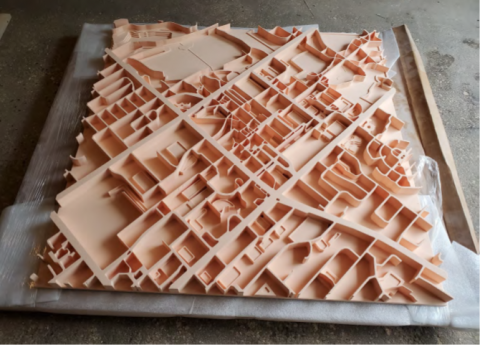 By Caitlin Ford
Showing how people may gather safely on outdoor campus spaces such as Johnston Green after COVID-19 is the goal of a new University of Guelph landscape architecture project.
Dr. Nadia Amoroso, School of Environmental Design and Rural Development (SEDRD), and two master of landscape architecture students, Christine Pedersen and Sihao Chen, visualized these outdoor spaces using a process called datascaping – creating information-driven digital mapping illustrations – to generate maps of outdoor locations on U of G's campus based on density patterns and occupancy.  
"The datascapes will serve as a narrative of dense spaces on campus during pre-COVID-19 and COVID-19 times to visualize individuals' personal spaces," said Amoroso. 
Datascapes have been used to display gathering spaces in New York City, San Francisco and Toronto, and the research team used the topographies generated for those cities as an inspiration for U of G's COVID-19 landscape. 
To create the datascapes, the researchers used aerial images of the campus and time-lapse videos shot before the pandemic to evaluate areas for size and quality. The maps indicate areas where two-metre distancing is feasible for safe social gatherings. 
"We devised social-distancing visuals which include two-metre radius spaces dotted within the open spaces on campus, highlighting potential density cluster areas," said Amoroso.  
Along with the digital datascapes, the team produced sculptural models of the spaces with a 3-D printer to further help the public visualize the gathering spaces. These will be displayed in the Landscape Architecture Building on campus, but Amoroso is exploring other opportunities to show them publicly around Guelph.
"The datascapes and sculptural models have been developed with artistic and compelling quality, rather than scientific graphics, in order to attract a wider audience."
As an artistic representation of Guelph's COVID-19 landscape, these datascapes allow the public to see visual representations of pedestrian flow and gathering habits. Amoroso said that, ultimately, the maps are meant to show how people can fill open spaces on campus.
"The art pieces reflect the COVID-19 landscape on campus -- visualizing the story of pre-COVID-19 activity on campus and what it might look like to safely occupy outdoor spaces in light of the pandemic." 
This project was funded by U of G's, Creating in a Time of Coronavirus Fund, with additional contributions from SEDRD.