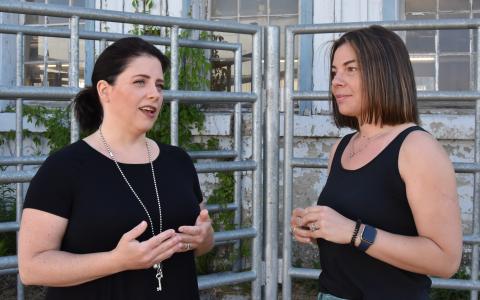 By Samantha McReavy
To promote mental health literacy, a course – tailored specifically for the Canadian agriculture community – called "In The Know" is being piloted this fall by University of Guelph researchers.
The pilot is set to be complete in spring of 2019 and researchers will then start preparing content for the online version of the course.
PhD candidate Briana Hagen and Prof. Andria Jones-Bitton of the Department of Population Medicine are working on this project to better inform farmers on mental health, how to cope with the stresses of running a farm in a healthy way, and how to start safe mental health conversations.
With the highest rates of suicide and mental health complications compared to other professions, farmers could use this course to learn valuable coping skills that could ultimately save a life.
"Farmers need to maintain mental wellness to maintain productivity," says Hagen, "Farmers are responsible for feeding the world, we need to help take care of their mental wellness."
Currently, the only education services available are designed for the general public such as the Mental Health First Aid program. This program has many benefits however, creating a more specific approach tailored to the agriculture community would improve the relevance of the information for our farmers, says Hagen.
Jones-Bitton surveyed over 1,100 farmers and found multiple mental health complications facing farmers in Canada.
"Sadly, we learned that many of our farmers are experiencing issues with high stress, anxiety, burnout, and low resilience," says Jones-Bitton. "We must better support our agricultural community."
  Extending on this initial work, Hagen and Jones-Bitton undertook 73 one-on-one hour-long interviews to find factors that contribute to mental health outcomes such as stress, depression, resilience, anxiety and burnout. Prior to this research, there were few mental health studies specific to farmers.
Based on information acquired through surveys, interviews, and insights from an extensive team of stakeholders in agriculture and mental health, Hagen and Jones-Bitton started developing In The Know.
This course will provide education on topics such as depression, anxiety, substance use and starting safe conversations about mental health. There will be three versions of the course: one four-hour version that concisely covers the topics, a more intensive eight-hour course, and an online version to improve accessibility.
Developing this program specifically for the agricultural community can help improve the lives of farmers, their families and friends, says Hagen.
The potential ripple effects of helping farmers take care of their mental wellbeing could improve farm productivity.
The researchers are also working to develop train-the-trainer classes about mental health in agriculture which gives individuals the ability to teach the course themselves. This will be available for communities that seek to promote mental health awareness in their agriculture sector.
Funding for this research was provided by Ontario Ministry of Agriculture, Food and Rural Affairs, Ontario Pork, Egg Farmers of Ontario, Ontario Federation of Agriculture, Ontario Sheep Farmers, and the Canadian Animal Health Coalition.