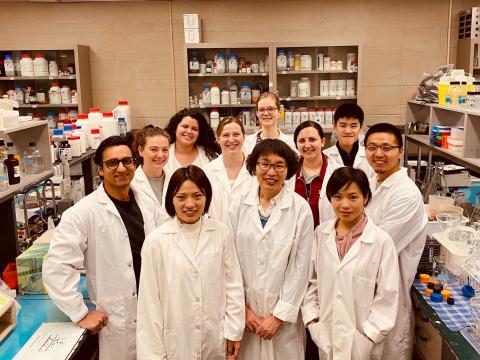 By Mya Kidson
Biomarkers—measurable health indicators such as bodily fluids—offer many details about the risk of developing disease, overall health status and even the reproductive abilities of an organism. University of Guelph researchers are studying the use of biomarkers in female pigs, also known as gilts, to find individuals with high reproductive potential for breeding stock.
Dr. Julang Li, Department of Animal Biosciences, and her research team are using non-invasive samples of metabolic bio-markers such as saliva and urine to select the most fertile gilts for breeding. 
"Take, for example, animals that are sisters," says Li. "Although they may have stark genetic similarities, the microenvironments within their body result in unique reproductive abilities. This is why we can't just look at the surface of their genetic data to tell us information about their fertility potential." 
Current methods of selecting breeding stock are often inaccurate and costly. They rely solely on genetics and the probability that gilts with favourable genetic makeups will reproduce efficiently. That's a relatively effective method for providing in-depth information about an individual, but it doesn't tell a farmer about an individual animal's bodily processes and their impact on reproduction. 
Li and her team study the genome (the complete set of genes from an individual), transcriptome (all the animal's RNA) and metabolites, or products from the body's metabolic reactions. 
Knowing the metabolites and transcriptome of the individual enables researchers to identify the gilt's unique bodily reactions that the genome alone can't distinguish. 
"Pig reproductivity is so complex," says Li. "We are hoping to simplify this process and further improve the breeding efficiency." 
She says these reproductive advancements strengthen Canada's pork industry and give it a competitive advantage. The ability to predetermine fertility in gilts and select only the best for breeding stock conserves the resources needed to raise the pigs. 
"This all cuts down costs and increases profitability for producers," she says. 
Further research is underway to develop biomarker use for breeding analysis. 
Li's research team includes Lauren Fletcher, Dr. Nadeem Akhtar and Xiaoshu Zhan, Department of Animal Biosciences.