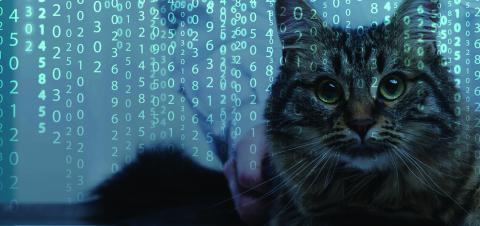 By Ashleigh Martyn 
Many veterinarians use data to help keep farm animals healthy, but data is less fully employed to prevent or predict illness among companion animals. Dr. Theresa Bernardo, Department of Population Medicine, and her team are using big data to investigate the average weight of cats over their lifetimes and help prevent disease. 
Bernardo holds the IDEXX Chair in Emerging Technologies and Bond-Centred Animal Healthcare, supported by a gift from IDEXX Laboratories Inc., which delivers diagnostic technology and services to veterinarians worldwide. The University of Guelph had access to more than 50 million data points collected from more than 19 million cats over a 35-year period ending in 2016. That data included age, breed, weight and reproductive status. 
Bernardo says access to this unprecedented amount of data has helped the researchers generate novel models that determine the average weight of cats as they age. Obesity is important as it contributes to chronic illness, such as diabetes, arthritis, cancer, heart disease and stroke. 
"There is a unique opportunity to combine data from various sources to gain valuable insights into the interactions between weight and health, particularly chronic disease," she says. "Our ultimate goal is to increase the number of healthy years lived for our pets." 
She says discussing body weight could help more owners take better care of their pets. 
"Body weight is an important indicator of health in both humans and animals," says Adam Campigotto, veterinarian and PhD candidate in Bernardo's lab. 
"It is also commonly measured during each medical appointment and simple to monitor at home—it is an accessible practice that could be an early indicator of the need for preventive health measures when measured consistently across a pet's life." 
He says OVC is uniquely positioned to improve companion animal health because of the college's relationship with IDEXX and the opportunities afforded by technology. 
"Our team works collaboratively across campus at the University of Guelph with world-class computer scientists to determine what we can learn from this data and associated trends." 
The first publication of this work in the Journal of the American Veterinary Medical Association garnered interest from more than 200 newspapers, sharing the findings with veterinarians and pet owners, respectively. 
A second publication on the methodology appeared in Preventive Veterinary Medicine. Bernardo is also working on the use of various technologies (automated feeders and scales) to help manage the weight of cats at home, improving the health of our feline friends.