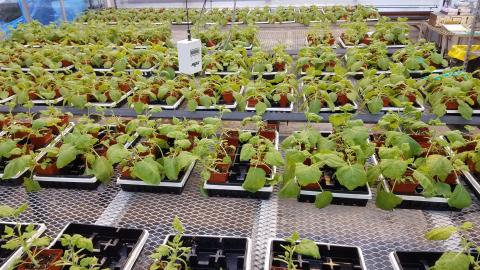 By Mya Kidson
Harnessing plants to make useful drugs, such as therapies for the COVID-19-causing virus, is a University of Guelph research goal. 
Dr. Jennifer Geddes-McAlister, a professor in the Department of Molecular and Cellular Biology (MCB), and her research team are looking for ways to improve molecular pharming practices to make therapeutic products, including vaccines and medications.
Molecular pharming involves the process of deliberately modifying DNA in a bacterium, which is then used to infect a plant by transferring its DNA. This leads to genetic expression and production of new proteins from the plant that can be used for therapeutic purposes. 
"While molecular pharming is already an established process, we are looking at how to improve the process to increase the yield of the target proteins," says Geddes-McAlister.
Researchers are using a bacterium called Agrobacterium tumefaciens because it acts as a natural pathogen for plants, such as tobacco. 
Under a natural infection process, the bacterium transfers its DNA into a plant, leading to crown gall disease, which causes tumour-like growths on the plant roots and stems. This makes A. tumefaciens an appealing vector for genetic modification and drug production studies. 
Geddes-McAlister's team is looking for ways to optimize the molecular pharming process to enhance drug production. That begins by looking at the infection process involving the plant host and pathogen.
"When we treat large quantities of plants with the bacteria for industrial-scale protein production, it can expose the bacteria to an environment devoid of nutrients and carbon sources for a prolonged period of time," says Geddes-McAlister. "This may influence the bacteria's ability to infect the plants and further impact target protein production." 
The researchers discovered that prolonged exposure to agroinfiltration medium (medium used during the transfer of bacterium into the plant) enhances infection of plant cells and can increase target protein production.
"The agroinfiltration approach can be a great alternative to conventional pharmaceutical production, as we can harness the natural relationship between a host and pathogen to produce large quantities of high-quality, biosimilar drugs in a relatively inexpensive manner," says Geddes-McAlister. 
Researchers can create quick treatment options using agroinfiltration and molecular pharming, especially for infectious diseases such as COVID-19, that require rapid intervention to mitigate spread. 
"The use of molecular pharming has great potential since it does not address one specific infectious disease, but rather, can be applied to an array of diseases," says Geddes-McAlister.
The research team partnered with PlantForm Corp. based in Toronto to optimize the drug production pipeline and establish new targets for molecular pharming.
The team now plans to identify disease targets and test them, including developing a proof-of-concept drug for different infectious disease candidates. 
"Molecular pharming provides another alternative method for drug production," says Geddes-McAlister. "This drug-making process is flexible and diverse, allowing us to apply the methodology to many different targets."
The research team includes MCB PhD candidate, Nicholas Prudhomme and PhD student, Connor Gianetto-Hill, and Dr. Emma Allen-Vercoe, a professor in the Department.
This research was supported by PlantForm Corp. and the University of Guelph's COVID-19 Research Development and Catalyst Fund.