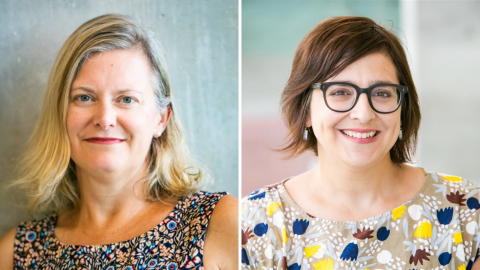 By Otaiba Ahsan
Understanding the history of how infectious disease has exacerbated social and health inequalities can help policy makers control the spread of COVID-19 and protect vulnerable groups, say U of G historians.
Drs. Tara Abraham and Catherine Carstairs, both in the Department of History, used historical literature and media to identify groups of people with disproportionate infection rates. They found that meat-packing employees, working mothers and migrant workers were at greater risk of infection than other groups.
"COVID-19 has had more than just biological effects on our society," says Abraham. "We wish to give a voice to different groups of people who are especially vulnerable during this pandemic."
The research team hopes to inform policy makers on what makes these workers especially vulnerable and how decisions can be made to keep these high-risk populations healthy. Abraham and Carstairs concluded that factors like unsafe working conditions, low wages and weakening unions should be addressed by organizational decision makers.
Among groups at higher risk of contracting COVID-19, labourers in meat-packing industries and migrant workers are often forced to work in crowded conditions, which contributes to greater spread.
Working mothers are also more strongly affected by heightened gender inequalities during the pandemic, as they end up monitoring children when schools are closed.
By investigating historical epidemics such as SARS and tuberculosis, the researchers concluded that infectious disease has always amplified social inequalities. They looked at government documents, medical literature and news articles to learn about and identify vulnerable groups.
Their team, including graduate students Phil Rich and Brenna Clark, has had their work featured in Conversation Canada, Our Times, Active History and the Rise Up! Feminist Archives.
"Studying the past allows us to achieve a deeper understanding of the present," says Carstairs. "We hope to guide policy makers to make informed decisions that will protect vulnerable demographics such as the ones we closely examined in our study."
Abraham and Carstairs also investigated the cultural history of mask-wearing during pandemics, and why masks still provoke controversy. Their work has already been promoted in The Conversation.
Their research showed that although people wore masks during the plague, mask-wearing has not been all that common in Western countries outside of medical settings. By contrast, in Asia, people have long worn masks to combat allergies and air pollution. As a result, people were much quicker to adopt masks to protect themselves against COVID-19 in Asian countries.
This research is funded by the University of Guelph COVID-19 Research Development and Catalyst Fund.