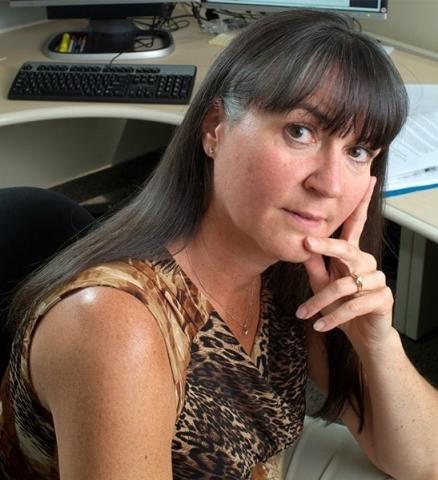 By Alicia Bowland
Shockingly, a woman or girl succumbs to femicide every three days in Canada. A U of G professor has established the Canadian Femicide Observatory for Justice and Accountability to bring a visible, national focus to this issue and to confront the biases behind it.
As Director of the Observatory, Prof. Myrna Dawson says the first step in reducing femicide is to increase education and awareness of the issue and why it's important to use the term 'femicide'. So, she's created the first such observatory to exist in Canada - and one of only a few that currently exist globally - to   publish insights and statistics that bring light to the problem.
Some countries, mostly in Latin America, have legislation or offences that recognize femicide and label it as such. But most countries do not – including Canada. Through the work of the Observatory,  Dawson aims to draw attention to the need to improve our responses to femicide as a nation, and violence against women and girls more generally, including  the need for better data that can inform the development of intervention and prevention initiatives.
The crucial need to do just that was driven home on April 18 and 19, 2020, when a lone male, armed with guns, killed at least 22 women and men across multiple communities in rural Nova Scotia. Dawson says this is the latest of several mass killings that have occurred in this country in which lone males targeted exclusively or predominantly women and girls.
"While details are still emerging from the Nova Scotia mass killings, the role of misogyny – a key contributor to femicide – has emerged as a factor that appears to have motivated the killer in at least some of the killings," says Dawson.
That men were also killed does not mean there were no gender-related motives for the killings; often, there are collateral victims in femicide, typically children and other family, but often members of the public as well, she added. This type of education and awareness is what Dawson hopes to achieve.
The most recent #CallItFemicide report released on December 6, 2019 is comprised of six sections and covers the history of femicide, motives and indicators for femicide, research priorities for informed prevention, and more. The report also breaks down patterns in the killing of women and girls in Canada.
For example, in 2019, when the victim's relationship with the accused was known, 57 per cent of reported female killings were intimate partner femicides – meaning that the victim shared a current or former relationship with the accused.
Additionally, 55 per cent were killed in their own home and 38 per cent in rural or remote regions.
"Canada has lower rates of femicide than some parts of the world, but we're still higher than others," she says. "We have a lot left to address, especially with Indigenous women and girls."
Dawson is an expert in this field globally as well. She is the senior advisor for Fem[in]icide Watch, a joint project of the United Nations Studies Association (UNSA) Global Network and the UNSA Vienna Femicide Team.
Overall, the goal of CFOJA is to educate the public through research and knowledge mobilization and foster a deeper understanding of how society can work to effectively reduce the counter-productive responses to femicide, and in turn, reduce its occurrence
Dawson says CFOJA does this work to increase education and awareness about femicide and to highlight the way that current gender-neutral language does not reflect the gravity of femicide and further obscures the sexual elements and gendered motives that are often present, distinct from the killings of men.
Her work also involves showcasing how negative stereotypes, particularly with Indigenous and other racialized women and girls, can prevent effective and timely responses to this violence for some groups of women and girls in particular.
The CFOJA and its #CallItFemicide reports aim to address and inform everyone -- particularly the media and those working within formal response systems who may come into contact with women and girls who need their help, but may fall back on stereotypes about intimacy, race, age, etc. and not respond suitably.
In Canada, Indigenous women and girls face a significantly higher risk of all types of violence, including femicide. CFOJA is attempting to combat not only the violence itself but the vast mishandling of criminal reporting and investigating in these cases.
Along with the general public, Dawson says media, law enforcement, and criminal courts often allow perceptions and bias toward women, intimacy and race to influence case outcomes. Inconsistencies in sentencing, documentation and variations in responses to cases are all examples of this.
The CFOJA and its #CallItFemicide reports and social media campaign also represent a movement to bring to the attention of lawmakers and policy makers that these killings are distinct and require distinct responses.
"For example, intimate partner femicides are not 'domestic disputes', 'lovers' quarrels' or 'crimes of passion'," says Dawson. "They are crimes of control and usually a culmination of chronic, ongoing violence – a crime of hate, not love. And until we call it what it is, we will never be fully able to address it…changes in femicide require attitudinal change demonstrated by the language we choose to discuss violence against women and girls. Gender-neutral language for gender-specific problems will not be enough."
This research is made possible with the input of the CFOJA Expert Advisory Panel as well as #CallItFemicide report co-authors Myrna Dawson, Danielle Sutton, Michelle Carrigan, Valérie Grand'Maison, Danielle Bader, Angelika Zecha and Ciara Boyd. The research has been supported by the Social Sciences and Humanities Research Council, the Centre for the Study of Social and Legal Responses to Violence and the Canada Research Chairs Program.