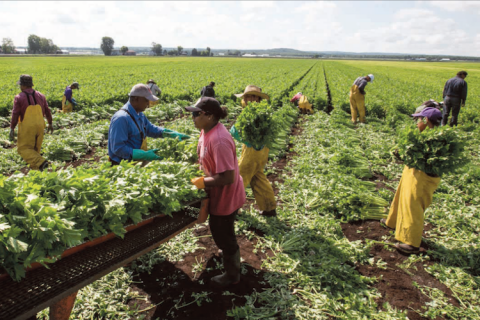 By Samantha McReavy
The Seasonal Agricultural Worker Program (SAWP) fills a significant labour shortage in Ontario's agri-food system and is a critical part of production here, says a University of Guelph researcher.  
Prof. Sara Mann, Dept. of Management, at the University of Guelph, says the program has a significant social and economic impact on Canadian farmers, on the workers' home countries and on Ontario's agriculture and agri-food sectors.
"To maintain the viability of SAWP, it is vital to fully understand its impact," she says.
SAWP is a stream within Canada's Temporary Foreign Worker Program.  Ontario employs the majority of the 25,000 SAWP workers in Canada. Through SAWP, foreign workers get seasonal employment, allowing them to support their families in their home countries. Canadian farmers gain access to a labour force which fills the gap in the agriculture industry. Mann says it's a win-win.
The Foreign Agriculture Resource Management Services, which administers SAWP, says there is a seven per cent job vacancy rate in the agricultural community.
Every year, fewer Canadians are looking for manual labour jobs in the agriculture sector, resulting in productivity loss on understaffed farms.
That vacancy results in $1.5 billion in lost sales in Canada per year, according to the Canadian Agricultural Human Resource Council. SAWP workers help reduce losses by filling the manual labour jobs in agriculture that Canadians are unable or unwilling to perform, such as harvesting and tending to crops and livestock.
The next step in her research will be obtaining quantitative evidence to identify the social impact of SAWP to improve the program.
Mann works with professor Marie-Hélène Budworth from the School of Human Resource Management at York University on this project. This research was funded by the Arrell Food Institute of the University of Guelph.