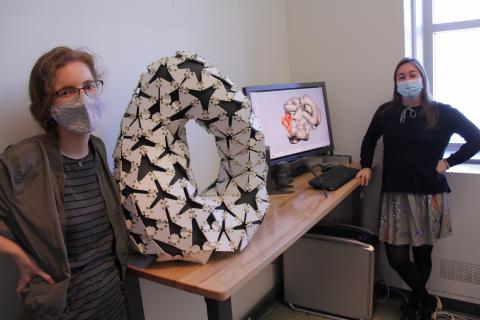 Arts gives rebranded lab a clear focus in practice and theory 
By Mya Kidson
When art meets science, the result is STEAM.
At the University of Guelph's Interdisciplinary Design Lab (IDL), rebranded from the former Digital Haptic Lab, the acronym STEM (science, technology, engineering, math) has grown to include arts.
 So now, when discussions centre on the disciplines served by the IDL, directors Professor Christian Giroux and Dr. John Phillips talk in terms of STEAM. 
"Arts adds an additional creative expression element to research, which is precisely where the IDL has landed after six years," says Phillips.
The word haptic refers to the manipulation of objects through the sense of touch and proprioception which is the sense through which we perceive our body's position and movement -- proprioception manages balance.
Since the lab's inauguration, it's enabled University of Guelph researchers and students to experiment and perform hands-on work with tools such as 3D printers and water jet cutters — it has also advanced research that conventional machinery such as drills and table saws can't do.
The lab provides a space for diverse research projects while also advancing the learning curriculum for senior experiential learning students. Giroux and Phillips provide human resources for creative development projects.
"The lab allows people from various disciplines to share their expertise and gain knowledge in differing fields of research while also becoming better designers and problem solvers," says Phillips. "Our main goal is to incorporate all aspects of STEAM into the academic community with this new branding." 
Resources managed by IDL were once dispersed across the entire campus. Now, all the technology is located in Alexander Hall to boost collaboration and efficiency. Besides 3D printing and 3D scanners, the facility is equipped with virtual and augmented reality devices that hold many opportunities for design exploration.
"We make this space accessible and open for people to explore their creativity," says Phillips. "We promote expanding their world to creative imagination and in the end, aim to make ideas of their imagination a reality."
Every college has been able to use the lab in some way.
For example:
In partnership with John F. Wood Centre for Business and Student Enterprise to solve the shortage of personal protective equipment (PPE) and minimize the spread of COVID-19 in medical settings, IDL's 3D printers were used to craft face shields for healthcare workers. Headband pieces printed at the IDL take one hour to make and can be affixed with a clear shield when at the hospital. This new design takes less time to print compared to other headband designs and has the potential to be printed using smaller at-home 3D printers — the increase in the yield of these face shields makes up for the decline in PPE provided to healthcare workers.
Researchers at the Ontario Veterinary College have partnered with the IDL to look into advancing surgical training tools for veterinarians. 3D models of an animal's internal organs can be used by veterinarians to practice complex operations before undergoing risky surgeries on the pet.
The IDL helped a research group from the School of Environmental Science manufacture the researcher developed block to create new techniques to obtain lush green rooftops — through the development of a soil block product to contribute to greener cities and suburbs.
Undergraduate research assistant Michael Richardson, School of Fine Art and Music, works with Phillips and Giroux in the IDL researching biomorphic sculpture and digital fabrication — this is the formation of sculptures that resemble living organisms.  The biomorphic sculpture project has assembled a team of students from a variety of backgrounds including Master of Fine Arts (MFA), Master of Landscape Architecture (MLA), and undergraduate Engineering.
"I don't think I'd be able to get this experience without these resources being available right at the university," says Richardson.
The IDL is supported through the College of Arts and the Office of Research. The IDL is a part of the College of Arts and is located in Alexander Hall.