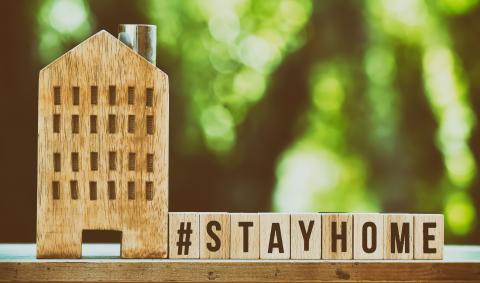 By Caitlin Ford
Initial COVID-19 lockdowns in Ontario last year led to more domestic violence, higher substance abuse and lower physical activity, according to University of Guelph research. 
Following the stay-at-home order in March 2020, population medicine professor Dr. Andrew Papadopoulos and a team of graduate students conducted a health impact assessment (HIA) to understand the lockdown's effect on the well-being of communities across Ontario.
An HIA analyzes positive and negative impacts of health policy on a community. Papadopoulos says that HIAs add value and provide diversity to policy decisions. 
"The advantage of using an HIA is the ability to determine the direct health impact of the policy and also identify any additional health impacts," said Papadopoulos. "Stay-at-home orders have proved to be successful in reducing community spread of COVID-19 infections. 
"However, public health is complex, and it would be myopic to only assess this outcome without a better understanding of the other resulting public health outcomes."
The team found that during the first lockdown, many Ontarians experienced negative outcomes, including increased domestic violence against women and children; greater misuse of alcohol, opioids and tobacco; lower physical activity; and more anxiety, depression, loneliness and stress in adult and elderly populations.  
Among the few positive impacts, people had more time to pursue healthy behaviours such as exercising and quitting smoking. 
Papadopoulos says even when a policy is delivered equally to all members of a community, its impact may vary for different groups. 
"Policy is a blunt instrument, and its impact depends on many external factors," he said. "Although alcohol consumption increased for most people, some took the time saved by working from home to engage in programs that helped them decrease their alcohol consumption. 
"And the same went for the other negative health outcomes that we observed."
The team recommended ways to mitigate the lockdown's negative impacts, including expanding remote mental health services, designing social media campaigns to increase awareness of domestic violence and promoting online workout videos to keep people active during the pandemic and beyond. 
These findings and recommendations will help the Ontario government in implementing future public health measures, said Papadopoulos.
"This research will increase the awareness of negative public health outcomes as an unintended side effect of public policy. Our HIA has identified gaps in the research to inform public health practice and policy making for both the COVID-19 pandemic and future public health issues."
Also involved with this project were graduate students Aishwarya Shah, Erin Rodenburg, Robyn Haas, Konrad Lisnyj, Abhinand Thaivalappil and Steven Lam.
This research was funded by the University of Guelph COVID-19 Research Development and Catalyst Fund and the Ontario Veterinary College.