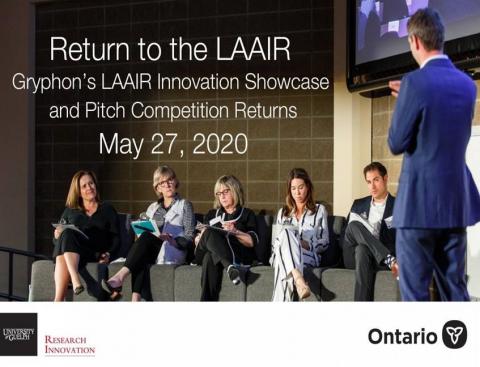 By Owen Roberts
Audience participants have the opportunity to pick their favourite new U of G entrepreneurial team in this year's Gryphon's LAAIR Pitch Competition, a program that supports U of G researchers as they transform inventions and lab discoveries into commercially viable agri-food innovations.
The online event, which takes place May 27 at 3 p.m., will feature select entrepreneurial teams presenting their products, ideas and services in five-minute Dragon's Den-style pitches, to a panel of three industry judges who will be participating from across Canada.
Stakes are high – the grand-prize winning team receives $10,000 to put towards the further development of its innovation.
In a new twist this year, the event is switching to an online version from its traditional in-person format, due to COVID-19 pandemic distancing requirements.
That change has proven to be challenging for presentation events elsewhere. And while it presented some hurdles for organizers at the U of G's Research Innovation Office, it simultaneously opened several new doors.
"It's a brand-new look," says John Livernois, interim executive director of the Research Innovation Office. "We know that start-up companies will be important contributors of economic growth once the COVID-!9 crisis abates so we're moving forward with a new approach to ensure U of G spin-outs don't lose any momentum."
First, the change to an online format meant a much more sizeable audience could be accommodated. In fact, up to 300 people are expected for this year's event -- three times as many as the event has normally attracted since its debut in 2014 – from offices and homes everywhere.
"Without physical limitations, we can reach people that normally would not be able to be take part," says Livernois.
Second, the online venue meant a seamless procedure could be developed for engaging audience members in electronic voting to determine a "People's Choice" winner.
Here's how it works. Using an online webcast platform, audience members will cast votes via their smart phones, laptops or other devices during a five-minute window near the end of the event. Their votes will be automatically tabulated, enabling organizers to immediately name the audience-selected winning team, which receives $7,000. The remaining three teams will receive consolation prizes of $1,000 each to put towards the advancement of their companies.
And finally, moving the competition online means it can be presented in an exciting live television-like format, enhanced with better sound and video technology. The two-camera production, staged by Straight Street Event Services, will switch back and forth between the team presenters, the judges and the host Jay Reid of the Making Box.
This year's teams represent a wide array of innovation.
Judges this year are Shelley King, CEO of Natural Products Canada, from Nova Scotia; Fred Wall, vice-president of marketing at Farm Credit Canada, from Saskatchewan; and Joe Dales, president of agriculture and food for RH Accelerator, from London, Ontario.
The 2020 version of Gryphon's LAAIR Showcase and Pitch event will be introduced online by University of Guelph Vice-President (Research) Malcolm Campbell.
Register for the online event at https://www.eventbrite.ca/e/gryphons-laair-pitch-competition-tickets-96092050911