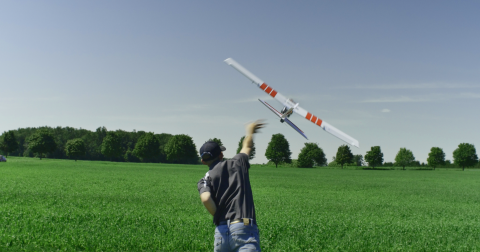 By Allison Sears
Drones—remote controlled aircraft with cameras mounted on them—are helping farmers and researchers detect early warning signs of crop damage caused by disease, moisture stress and pests.
Prof. Mary Ruth McDonald, from the Department of Plant Agriculture, is using drones to help integrate a more efficient and objective assessment of crops at Muck Research Station, in Holland Marsh.
"Drones are an exciting new technology, and many researchers are interested in their compatibility with research projects," says McDonald.
Two people work in a team to control the drone. One, the pilot, monitors a safe landing and take-off of the drone through a remote control. The other directs the flight path by entering coordinates through GPS on a laptop computer, which tells the pilot where in the field to capture images and video of research plots.
High-definition images captured by the drone are sent back to the laptop. The images allow researchers and farmers to assess the condition of crops earlier than scouting on foot.
Plants demonstrate early signs of sickness and stress through chlorophyll, a green pigmentation responsible for light absorption, in their leaves. Chlorophyll in healthy plants absorbs red light and reflects infrared (IR) light. Damaged chlorophyll reflects both red and IR light. Photographs taken by the drones pick up these subtle light signals that are invisible to the human eye and offer an objective insight into the plants' health.
McDonald is collaborating with High Eye Aerial Imaging Inc., a company that specializes in aerial imaging and operates an octocopter (a drone aircraft that is similar to a helicopter).
The octocopter, powered by batteries, is able to hover at different heights over research plots, which allows for closer images.
Aerial photography and drones allow researchers and farmers to optimize and use methods such as herbicides, pesticides and fertilizers with more efficiency. Aerial photographs can also be used to reduce crop loss and provide better information to the grower and researcher.
High Eye Aerial Imaging Inc. is currently providing aerial crop monitoring to improve Integrated Pest Management (IPM), a method of identifying pests and determining risk before applying fungicides and insecticides, and the assessment of vegetable crops at Muck Research Station.
In addition to McDonald, plant agriculture Profs. Liz Lee and Bill Deen have been using drones at the Elora Research Station to conduct research on corn nitrogen requirements.
Bradford Co-Operative Storage Ltd. is the industry sponsor of this project and is funded in part by Growing Forward 2, a federal-provincial-territorial initiative. The Agricultural Adaptation Council assists in the delivery of Growing Forward 2 in Ontario.
The Fresh Vegetable Growers of Ontario are also providing financial support.