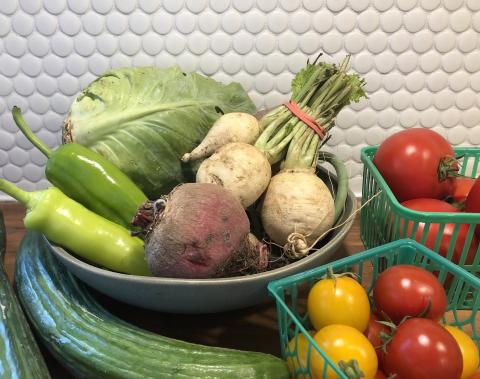 By Alicia Bowland
Months after the start of Canada's emergency quarantine orders, some Canadian households are still left wondering if they will continue to have access to food at affordable prices in the case of a second wave of COVID-19 cases.
Should another outbreak occur, it will be crucial to monitor a few major factors that are influenced by the pandemic and that are essential to maintaining a stable food supply at affordable prices, says Prof. Brady Deaton, Department of Food, Agriculture and Resource Economics.
"While food remains available in the near term, food availability in the longer run will depend on the effect of COVID-19 on health, trade, transportation and farm financial stability," says Deaton.
The effect of COVID-19 on household food security is twofold. Firstly, isolation conditions and business closures create a unique "income shock" that is expected to increase the prevalence and intensity of food insecurity, he says.
A serious loss of income as businesses were and are shut down reduces buying power and creates fear of insecure conditions, including reduced food buying power. This was anticipated by Deaton in the first round of the pandemic, and they see it as serious in any second round -- particularly the fear and uncertainty involved.
The first wave of COVID-19 also created threats to consumer expectations for food availability and food prices (reflected in hoarding behaviours and surges in demand). Any second wave could potentially have similar effects.
In a recent journal article, Deaton and fellow agricultural economist Brady Deaton of the University of Missouri emphasize the importance of the income shock and its potential to diminish the food security of Canadian households. They argue that first and foremost, policies will need to address the food insecurity challenges associated with a loss of income. With respect to agricultural supply chains, international trade, financial stability of farms, and transportation remain ongoing concerns.
Their study emphasizes the important relationship between international trade, food availability, and Canada's capacity to maintain low food prices for consumers. For this reason, they say that the maintenance of trade would be an ongoing concern if a second wave were to occur.
According to the Canadian Community Health Survey and the First Nations Regional Health Survey, even before the pandemic, almost 13 per cent of Canadian households experienced some level of food insecurity. By comparison, over half of adults living in First Nations communities were identified as food insecure.
When compared to other financial crises, such as the 2008 housing market crash, the COVID-19 pandemic presents unprecedented complications. For example, the potentially crippling effects of serious illness and death directly endanger a household's capacity to recover financially. This income shock affects the quantity and quality of food purchases, they say.
In the event of a second wave of COVID-19, the researchers urge the careful assessment of its effect on key factors affecting our more vulnerable populations – such as health, income, employment and food prices -- and consider these when designing an appropriate response.
A research paper with their analysis can be found here: https://onlinelibrary.wiley.com/doi/full/10.1111/cjag.12227 in a special edition of Canadian Journal of Agricultural Economics.