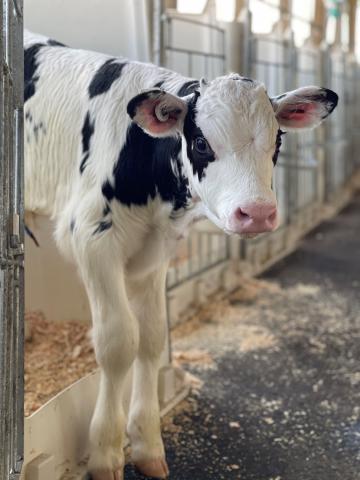 By Dianne Priamo and Kathryn Kroeze
The milk replacer diet typically fed to dairy calves in the pre-weaning phase differs in composition from whole bovine milk, discrepancies that could affect calf gut health, University of Guelph researchers have found.
The pre-weaning diet in dairy calves sets the stage for long-term health and productivity. Dr. Michael Steele, a professor in the Department of Animal Biosciences, and his team of graduate students aim to determine the optimal milk replacer formulation for calf well-being. 
"The milk replacer we currently feed to calves is not at all similar to whole milk," says Steele. "Our goal is to determine how this is affecting calf health and identify areas for improvement."
In dairy calves, there are two options for pre-weaning feeding – whole milk and milk replacer.
Whole milk has much more fat than milk replacer, while milk replacer is higher in lactose. Milk replacer is also cheaper. The two alternatives also differ in amounts of fatty acids, which have been previously shown to decrease digestibility in milk replacer-fed calves. 
Only a few studies compare whole milk and milk replacer pre-weaning diets.
"We suspected that the composition of fat in whole milk would promote gut health and development," says Steele. "A further understanding of these differences in composition could help close this research gap and potentially optimize milk replacer formulation."
The research project followed newborn male Holstein calves for three weeks. Half of the calves were fed whole milk while the other half were fed a milk replacer. The latter was designed specifically for the study to reflect the fat and energy content of whole milk, allowing the researchers to focus on the differences in fatty acid structure and their associated health outcomes. 
After three weeks, gastrointestinal permeability and development were measured. Intestinal permeability, otherwise known as "leaky gut," was greater in the whole milk group. This condition is associated with adverse health effects like diarrhea.
However, the whole milk-fed calves also had greater intestinal and gut development and growth, which could suggest improved gut capacity. 
These results indicate that calf gut development and permeability are potentially affected by the differing fatty acid profiles. The researchers plan to study how fatty acids affect cell membrane composition and gene expression.
"We're very interested in further investigation of fatty acids, their other health impacts and the potential long-term effects of different feeding strategies," says Steele. "We will continue to strive to improve calf gastrointestinal health in the future."
Contributing to this research are PhD students Annemiek Welboren and Juliet Wilms and master's students Juanita Echeverry-Munera and Siobhan Mellors.
This research was funded by Dairy at Guelph, Alberta Milk, BC Dairy Association, Dairy Farmers of Manitoba, SaskMilk, Bayer, West Gen, Lallemand, Trouw Nutrition and the Natural Sciences and Engineering Research Council.