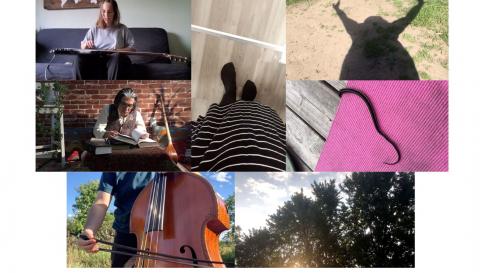 By Caitlin Ford
Countering pandemic isolation by bringing together musicians and the sounds of nature was the goal of a recent virtual improvisation project by University of Guelph researchers. 
The project, which began in July 2020, was led by Dr. James Harley, professor in the School of Fine Art and Music, and project assistant Ann Westbere. They invited seven student-musicians to perform improvised pieces in short video clips. The improvisations were developed in response to recordings of environmental sounds such as birds chirping, water flowing and frogs croaking.
Pandemic isolation has been hard on the inherently collaborative music industry, said Harley, but its silence has also amplified sounds of nature and has given musicians a source of inspiration. 
"The ambient soundscape recordings signify the current reality, where nature exists, even thrives, with muted human intervention," he said. "The pandemic has slowed the pace of our world and people aren't making as much noise. This gives us a chance to really listen to the sounds of nature."
The project evolved into a series of individual response videos. Each performer improvised a piece based on how their chosen soundscape made them feel. Performers shared their initial responses with other group members, who each recorded an improvised follow-up musical response to be combined as one audio track by audio-video assistant Marcela Echeverri.
The students produced 14 videos of varying lengths, featuring their musical improvisations overlain on the original soundscape. Although it was filmed apart, the final product simulated a live performance with the performers collaborating and interacting with each other, the soundscape and the music. 
"Since the students were not physically together, they really had to listen to the materials that I provided them with," said Harley. "This was an exercise of organic, intense reacting and performing."
The videos are available for public viewing on the website of U of G's International Institute for Critical Studies in Improvisation (IICSI). Participants have included the project in presentations at various musical conferences and seminars.
Seven graduate students were involved with this project: Judit Csobod, Marcela Echeverri, Erin Felepchuk, Ben Finley, Brent Rowan, Carey West and Reza Yazdanpanah. Before the pandemic, these students performed together as The Cool Hearts Band. 
For the students, including some who will graduate this spring, the interactive improvisation project allowed them to collaborate with their peers during a virtual school year. The group is looking forward to resuming live performances when it's safe to do so, but in the meantime, Harley sees this project as a reflection of music's resilience.
"The interaction with each other's responses signifies our adaptability, where we find ways to listen and engage. This project demonstrates that deep and critical listening can still be undertaken, even while in physical isolation, and I think these skills will carry us forward beyond the pandemic."
This project was funded by the U of G Creating in a Time of Coronavirus fund, with additional funding and support from the College of Arts and IICSI.