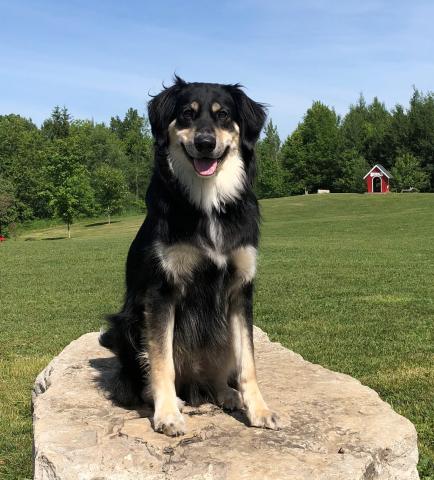 By Sydney Pearce
This holiday weekend, as you finalize your plans, make sure to prepare yourself for the insects that accompany the great outdoors – like ticks.
Ticks can transmit pathogens that cause disease. In Ontario, the blacklegged tick poses the greatest risk; it can transmit several pathogens including the bacteria (Borrelia burgdorferi) that causes Lyme disease in humans, dogs and horses.
"We aren't trying to scare people away from nature – enjoying the outdoors is crucial for health and wellbeing," says Katie Clow, a postdoctoral fellow at the Ontario Veterinary College (OVC). "The important thing is taking the proper precautions – for you and your pets - when venturing into wooded and bushy areas."
Proper precautions include staying on marked paths, wearing appropriate clothing such as long-sleeved shirts and pants, applying a repellent containing DEET or icaridin, and doing a thorough tick check when you get home. You can protect your dog by using a veterinary-approved tick preventative and also doing a tick check. 
Research on the blacklegged tick has been ongoing at OVC. As part of her doctoral work with supervisor Prof. Claire Jardine, Clow examined the distribution of the blacklegged tick in Ontario.
A previously developed model was also applied to field data to assess patterns of spread. A hot spot for the tick and ongoing northward range expansion was detected in eastern Ontario. 
"The pattern of spread was similar to what was predicted by the model," says Clow. "This information can be used to enhance surveillance of tick populations and increase our awareness of risk."
Clow has worked with Profs. Scott Weese (OVC) and Michelle Evason (Atlantic Veterinary College) to develop the website, www.petsandticks.com. This site provides evidence-based information on ticks in Canada, and also houses the Pet Tick Tracker where pet owners and veterinarians can submit findings of ticks on pets.
Funding for this research was provided by the Public Health Agency of Canada, the Natural Sciences and Engineering Research Council and the Canadian Wildlife Health Cooperative.