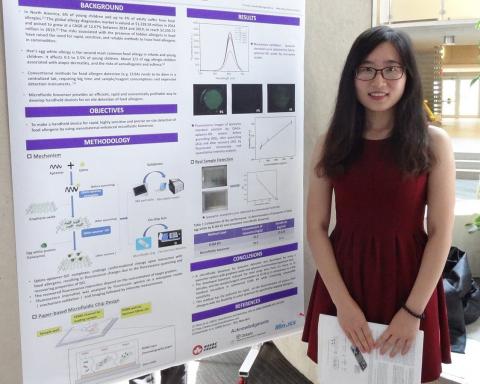 This story was provided by Mitacs
Although the general population is aware of the health risks posed by food allergies, these risks are still a safety concern for the individuals affected. With no surefire method of detection, people with serious food allergies must avoid certain foods altogether; however, a project at the University of Guelph is increasing food safety by helping to detect allergens well before an item ends up on consumers' plates.
Kaidi Wang, a food science student at Zhejiang University in China, has travelled to Guelph this summer for a Globalink Research Internship that paired her with Dr. Suresh Neethirajan's BioNano Laboratory. Kaidi's internship has her working on a hand-held sensor that can detect common allergens such as brevetoxin and okadaic acid (from shellfish) and lysozymes (from egg) in food samples.
"Food allergies have a significant effect on people's health — and medical visits and treatments can be expensive," Kaidi explains. "Previous methods to detect allergens were time-consuming and costly, while this method will provide easier, more affordable, and field-deployable detection." Kaidi anticipates that the sensor will eventually be commercialized and used by consumers.
The opportunity to come to Canada — which she learned about from classmates in China — has inspired Kaidi's future plans: "I'd like to do a master's degree and eventually a PhD abroad. I hope that I can return to Canada to continue my studies." With Dr. Neethirajan's support, Kaidi has broadened her research skills and even learn how to make a microfluidic biosensor chip.
Research isn't the only highlight of Kaidi's trip: she's been exploring the city with her new friends and even took a trip to Niagara Falls. "I enjoy being in Guelph," she raves. "It's so beautiful and peaceful."
Mitacs would like to thank the Government of Canada, along with the Government of Alberta, the Government of British Columbia, Research Manitoba, and the Government of Quebec for their support of the Globalink Research Internship program. In addition, Mitacs is pleased to work with international partners to support Globalink, including Universities Australia, the China Scholarship Council, Campus France, India's Ministry of Human Resource Development, Mexico's Secretariat of Public Education, Monterrey Institute of Technology, and the Higher Education and the National Autonomous University of Mexico, Saudi Arabia's Ministry of Education , and Tunisia's Ministry of Higher Education and Scientific Research and Mission Universitaire de Tunisie en Amerique du Nord.
You can read more about this research on the Mitacs website.