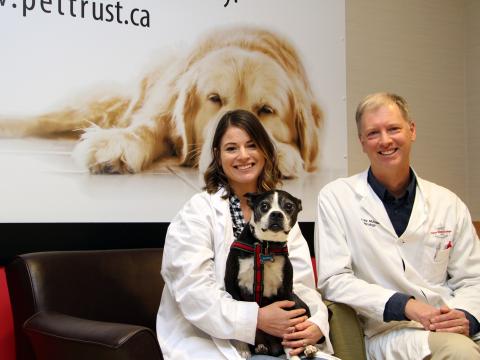 New gold nanoparticle cancer therapy technique could help animals and humans
By Samantha McReavy
Canine prostate cancer research at the University of Guelph could help transform future cancer treatments – for pets and humans – making therapy less invasive and more effective. 
Researchers are working to determine the efficacy of a new gold nanoparticle cancer therapy technique for dogs with prostate tumours. University of Guelph professor Dr. Tony Mutsaers, Department of Clinical Studies and Department of Biomedical Sciences is involved in this study with a team of researchers, including MSc student Charly McKenna, Department of Biomedical Sciences.
The team is utilizing a minimally invasive technique to deliver coated gold-nanoparticles directly to the tumour. Once inside the prostate, this treatment makes the tumour cells more sensitive to radiation.
 "Our research and the goal of introducing this novel therapy is to help dogs with prostate cancer live healthier, longer lives by limiting the negative side effects of cancer treatment," says McKenna.
Typically, when pet owners seek treatment for dogs with prostate tumours, the cancer is quite advanced. McKenna says there are few effective treatment options available.
"This research is hoping to change that by providing a minimally invasive option to directly treat the local tumour environment," she says. "Because of the accuracy of this treatment, the effect on healthy cells is reduced, limiting the negative side effects of cancer treatment."
Traditional prostate cancer therapies use a combination of chemotherapy and radiation that are less specific and, as a result, more detrimental to non-cancerous tissues.
Chemotherapy is a whole-body treatment, killing off cancer cells but also healthy cells in the process which leads to side effects such as hair loss, nausea, and easy bruising and bleeding.
Canine patients typically receive lower doses of chemotherapy that are better tolerated, but still may result in side effects that include vomiting, diarrhea, low blood cell counts, and lethargy.
Radiation provides a more accurate treatment directed at the tumour. Unfortunately, it also creates side effects as radiation passes through normal tissues. Typically, radiation therapy for prostate cancer involves daily treatment for several weeks.
This new approach may increase tumour sensitivity to radiation, which researchers believe will likely reduce the total number of treatments needed, making radiation therapy more effective and convenient.
Mutsaers, McKenna and their team are currently in the early stages of this research, with the goal to move forward with a prospective clinical trial in canine prostate cancer patients at the OVC Animal Cancer Centre. Ultimately, this research may inform human medicine in providing a more targeted treatment option with decreased side effects.
"Because prostate cancer has similarities between dogs and humans, if the treatment is effective in dogs it could potentially be applied to human cancer therapy in the future as well," says Mutsaers.
Others involved in this research include Drs. Michelle Oblak (surgical oncologist) and Stephanie Nykamp (radiologist) of the Department of Clinical Studies at the University of Guelph, along with medical physicists Ernest Osei and Andre Fleck from the Grand River Cancer Centre, and Shawn Wettig with the University of Waterloo school of pharmacy.
Funding for this research was provided by OVC Pet Trust and the TELUS Ride for Dad Foundation.