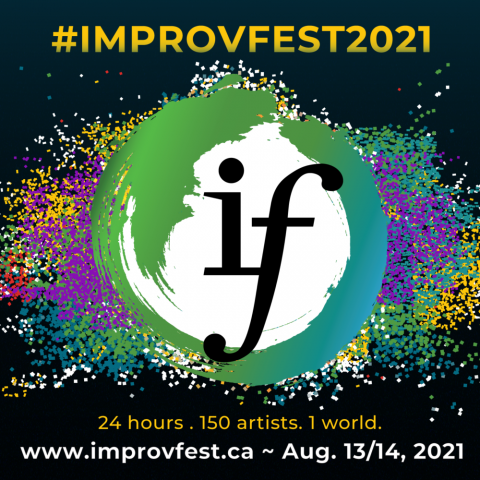 By Otaiba Ahsan and Cate Willis
A new University of Guelph project has enabled people to build community during the pandemic and to find solace and inspiration through art and improvisation. 
Dr. Ajay Heble, a professor in the School of English and Theatre Studies and the director of U of G's International Institute for Critical Studies in Improvisation (IICSI), launched the Improvisation Festival (IF) as an online celebration of improvisational arts in August 2020.
"We thought we would mount an improvisational arts festival across the disciplines because this was a time when most artists were losing opportunities to play," Heble says. "They were losing their ability to make a living wage in the marketplace, gigs were being cancelled, venues were being closed. We thought we would use the grant money to pay artists, many of whom haven't had a chance to play or perform."
The free, live-streamed event featured 150 artists from more than 20 different countries. It included audio and video content pre-recorded during the pandemic with some element of improvisation, including music, theatre, film and spoken word.
More than 5,000 people attended the virtual festival from more than 50 different countries. The event was live-streamed for 24 hours because Heble wanted it to be a 'live performance.'
"We wanted to capture that in-the-moment experience," he says.
The research team was also interested in seeing how artists responded to the limitations imposed by the pandemic and how they would create art during this period. They found that artists were making use of whatever was available to them to create.
"There were some artists who recorded themselves playing whatever was in their kitchen," Heble said. "One artist in Japan who might have wanted to play a drum set, which he didn't have access to, played his wok."  
Now with fresh funding, Heble will launch IF 2021 on Aug. 13-14. The 24-hour-long event will feature more than 150 artists from more than 20 countries.  
Grant funding is also enabling IICSI to build a new facility on campus to be completed by the end of 2021. The Improv Lab will serve as a performing arts and research facility.
Heble hopes the new space will host live events but says virtual events also offer advantages.
"Even when we're able to gather in person again, I would want to create an opportunity for people to tune in remotely because it's such an amazing opportunity to bring people in from all around the world who wouldn't be able to participate otherwise. When we're able to do this festival in-person, we're likely to use a hybrid format, so some elements will likely be remote."
Heble's team also included Rachel Collins, project manager; Ed Sinclair, technical director; staff members Richelle Forsey, Sam Boer and Marie Zimmerman; and student research assistants Ariel Oleynikov and Stephen Donnelly. The team partners with organizations including Lasalle College in Singapore, Onassis Cultural Centre in Athens, and Coastal Jazz & Blues Society in Vancouver.
This research is supported by the University of Guelph COVID-19 Research Development and Catalyst Fund, the College of Arts and Musagetes.