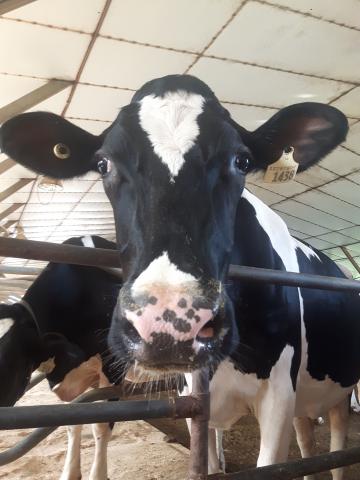 By Otaiba Ahsan
A complete genetic and economic assessment of the current breeding structure in Canadian dairy cattle is in the process of being completed by a team of U of G researchers from the Department of Animal Biosciences.
The team's mission is to identify new technologies for improving efficiency in the dairy sector, while keeping costs in check for consumers and farmers.
This five-year research program is led by Prof. Christine Baes, Prof. Flavio Schenkel and Dr. Gerson Oliveira, along with Ph.D. candidates Lucas Alcantara and Kerry Houlahan and MSc. student Colin Lynch.
 "If we want to benefit from these new technologies, our industry has to find a way to record and incorporate both genetic and economic factors and use them to develop new genetic selection strategies for breeding," says Baes.
The team has succeeded in its initial goal of determining phenotypic and genetic correlations -- some of which that have never been estimated -- between important traits which could help dairy farmers' bottom line. The aim is to then apply novel technologies that will maximize genetic gains such that favourable phenotypes will become more common. This will ultimately help in the dairy cattle production process.
The next step will be to move onto a complete economic analysis, as well as the analysis of cutting-edge phenotyping and genotyping technologies.
Baes says strategies which might incorporate new dairy technologies are largely unexplored. This study is working to provide an in-depth analysis and prognosis for implementing new approaches within routine breeding schemes.
Their hope is to boost total production without raising costs, all while maintaining or improving the integrity of the dairy products of interest.
"As the middle class continues to grow in emerging economies, along with a general global population increase, the demand for products in the dairy industry will also continue to grow," says Baes. "Our research may lead to better production efficiency while maintaining production costs, making the whole system more sustainable."
This research is funded by DairyGen Council, the Dairy Farmers of Canada and the Growing Forward 3 Program. Frequent collaborations have been made with geneticists from Holstein Canada, Canadian Dairy Network and CanWestDHI.