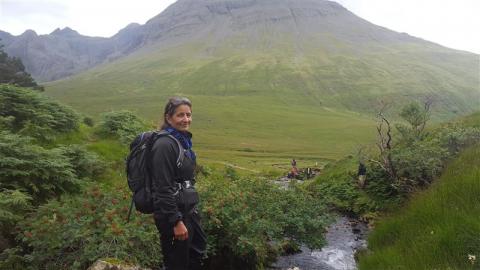 Implementing Indigenous knowledge systems in environmental research is one goal of a new University of Guelph faculty member.   
Dr. Susan Chiblow, a professor in the Ontario Agricultural College and an instructor in U of G's new bachelor of Indigenous environmental science and practice program, works with Indigenous Elders and Knowledge Holders to explore their research goals.  
"There's been a lot of unethical research done in Indigenous communities, which has greatly impacted the relationship that we as researchers have with these communities," says Chiblow.  
She says past researchers "helicoptered" in, extracted knowledge and then disappeared, but now researchers must stand with the community and their knowledge. 
"Working directly with the community and including their input builds long-lasting trust," says Chiblow. "This is especially important when considering the inequities and injustices these communities have faced and continue to face." 
Chiblow says it is important to develop inclusive, community-based research protocols when working with Indigenous communities. She believes in learning from and working alongside Indigenous Elders and Knowledge Holders to design and implement rigorous and impactful research projects to cultivate real change in society.  
"Before we can begin to work with these communities in a research setting, there needs to be an active effort towards listening, learning and understanding the adversities that these communities have and continue to face," says Chiblow. "By listening and learning, we can bring forth action as opposed to apologies with little impact." 
Since arriving at U of G in late 2021, she has connected with researchers in various disciplines such as environmental and biological sciences. She hopes to develop transdisciplinary projects on topics of interest to Indigenous and non-Indigenous communities in Canada, including environmental and human health concerns.  
"We need to intersect, share our knowledge and bring our minds together to figure out how we can address the environmental issues that humanity has created," says Chiblow. 
She and other faculty members are providing Indigenous and non-Indigenous students with opportunities to work with Indigenous communities in Canada and help students develop informed research projects.