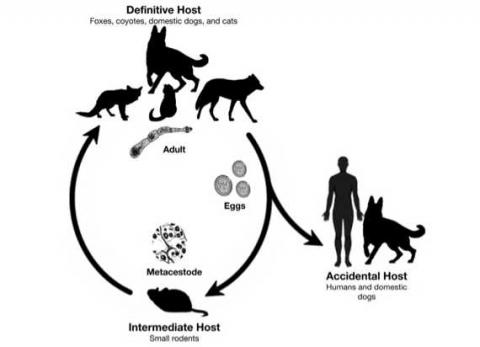 Dogs, humans may be at risk from a new form of tapeworm
By Sydney Pearce
Dogs in southern Ontario are being exposed to a newly identified tapeworm that can infect humans and cause a potentially fatal disease.
Since 2012, five dogs in southern Ontario have been diagnosed with the larval stage of a small tapeworm called Echinococcus multilocularis (EM).
Reports of the disease that EM causes, called alveolar echinococcosis, surprised University of Guelph PhD candidate, Jonathon Kotwa, and Prof. Andrew Peregrine from the Department of Pathobiology, who have been studying the tapeworm in wild animal populations.
When left untreated, alveolar echinococcosis is potentially fatal in humans and dogs. Until recently, EM was not legally reportable in Canada, making it almost impossible to track animal or human cases. But the findings of this research have helped successfully push for the disease to become reportable in animals in Ontario.
This development has implications for tracking, diagnosing and spreading awareness of the disease.
"We are working towards better awareness of this infection. EM can have serious physical health, mental health and economic impacts – we hope to limit this by describing the previously unknown distribution of this infection in Ontario,"  says Kotwa.
Adds Peregrine: "Awareness is key. We now know that EM is in southern Ontario so we can take the necessary steps to stop our dogs and ourselves from contracting the parasite."
Alveolar echinococcosis involves the liver, but can affect other organs as well. The intermediate stage of the parasite grows slowly and often goes undetected for a lengthy period because the liver can function normally until it is extremely damaged.
In humans, signs and symptoms can take up to 15 years to develop. When imaging is conducted, the appearance can be confused with a tumour. These two diagnoses require different treatments, making a definitive diagnosis extremely important.
The parasite is passed to wild canids, such as foxes and coyotes, by eating rodents that are infected with the larval (intermediate) stage of EM. The researchers found that roughly 25 per cent of wild canids tested from across southern Ontario were positive for EM; infected wild canids carry the adult tapeworms in their small intestine and shed eggs in their feces. Humans and dogs can potentially develop alveolar echinococcosis when these eggs are accidently ingested.
Dogs can develop two different kinds of EM infections. Like foxes and coyotes, dogs can also become infected with the adult tapeworms and shed infective eggs in their feces – dogs that hunt rodents are at an increased risk of developing such an infection. While an infection with the adult stage is harmless to dogs, the eggs shed in their feces are a risk for humans developing alveolar echinococcosis. Furthermore, dogs that ingest large number of eggs may develop alveolar echinococcosis.
Researchers remind dog owners (and outdoor cat owners, although cats do not carry the parasite easily) to consistently wash their hands. Maintaining sanitary habits when dealing with your pets is the best way to deal with this disease.
To help raise awareness of the parasite and disease in Ontario the researchers have also developed a website about EM in Ontario. To find out more information and stay up to date with the current EM research in Ontario visit www.emultiontario.com.
Other collaborators on the project are Profs. Claire Jardine, David Pearl and Olaf Berke, Dr. Nicola Mercer (Wellington-Dufferin-Guelph Public Health), and Drs. Mats Isaksson and Eva Osterman-Lind of the National Veterinary Institute in Uppsala, Sweden.
This research was conducted in collaboration with The Canadian Wildlife Health Cooperative and licensed hunters and trappers in southern Ontario. It was funded by Bayer HealthCare, the National Centre for Veterinary Parasitology, the Natural Sciences and Engineering Research Council, Government of Ontario, the Ontario Veterinary College, Ontario Animal Health Network, and the Burroughs Wellcome Fund.