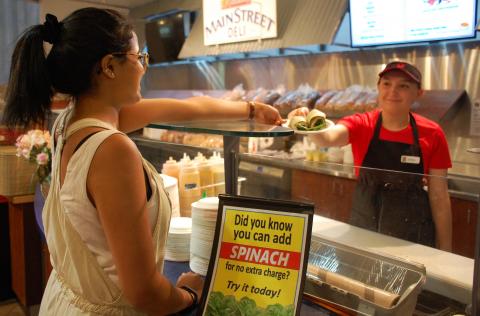 By Sydney Pearce
Many students eat out regularly instead of cooking at home, so University of Guelph researchers are testing out a new way to subtly promote healthy choices – vegetables, specifically -- when ordering food.
The technique is called nudging – that is, modifying the environment people make decisions in so that preferable or healthy decisions are easier to make. Prof. Sunghwan Yi from the Department of Marketing and Consumer Studies is leading a team that is working with Guelph students to see if nudging can promote healthier diets during their university years, which can be full of stress and bad food choices.
"In today's society, young adults are getting married and starting families later in life so they tend to live alone for longer periods of time," says Yi. "For many young adults in Canada, it's no longer as convenient or necessary to cook everyday, and that's why we need to look at what they are eating when they aren't at home and try nudging them towards healthful eating."
Convenience is key for food decision making – and so is the placement of food items on a restaurant menu or fast food display at a drive through. Yi says people are more likely to choose items at the beginning or end of a menu; the middle is often skimmed over. Items that catch the eye with large fonts or prominent displays will also be chosen over non-featured food.
Yi says these factors can be manipulated into nudging techniques by putting healthy foods at a favourable part of a menu and visually emphasizing them.
Yi acknowledges that nudging might be seen as manipulative. However, he is quick to argue that nudge is implicitly present at every food places since any menu design, shelf-arrangement or combo meals used in restaurants indirectly suggest consumers that they take certain food options rather than others. Actually, believing that one's choice is completely independent of implicit suggestions ubiquitously used in restaurants and shops is a myth. According to Yi, if it is impossible to design and run a food place that is free of nudge, why don't we harness nudge to promote healthier food options as long as doing so is cost-neutral?
Yi also notes that his interest in the nudge approach started when he realized that traditional approaches to promote healthy eating, such as emphasizing a food's nutritional value, seldom works.
"Naturally, people don't want their freedom infringed upon," he says. "We aren't taking away any of their choices by using this technique, just refocusing their attention in a more favourable direction. Plenty of health education campaigns tried to use facts to promote healthy foods or dissuade people from certain choices. And unfortunately, there is also plenty of research showing that this has yet to be a successful method because most of our daily food choice decisions are based on fast hunches and habits rather than on deliberate judgment of all the options available."
Early results are promising. One trial used University of Guelph deli sandwich stations to promote eating nutrient-rich spinach instead of nutritionally neutral lettuce, which is typically placed near the beginning of serving bin lines. Lettuce is the option that normally comes to mind, due to repetition and favourable placement. But when the researchers changed the status quo by posting signage that emphasized the availability of spinach as an option for free, uptake increased. So far, researchers have conducted interviews and surveys with students to understand how they make food choice decisions on campus and tried implementing such knowledge into nudging strategies.
University of Guelph Executive Chef Vijay Nair says that Hospitality Services is committed to providing healthy choices on campus.
"Working with professor Yi has been an excellent opportunity for us to better understand and serve our community," says Nair. "We follow industry trends, act on customer feedback and work closely with our Student Nutrition Awareness Program team to regularly modify our menus and expand our vegetable options."
Adds Hospitality Services' Executive Director Ed Townsley: "As a department, it is great to help support the mission of the University through research and education."
Now, researchers are interviewing directors and managers at several Canadian university food service departments to determine what nudging techniques are feasible. This information will be used to help promote nudging techniques broadly and among universities.
The research team includes MSc student Kiran Bains, and Profs. Paula Brauer, Department of Family Relations and Applied Nutrition, and Vinay Kanetkar, Department of Marketing and Consumer Studies.
Funding for this research is provided by the OMAFRA-University of Guelph Partnership.