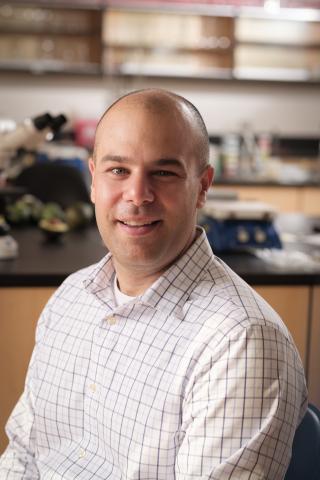 By Mya Kidson
COVID-19 prevention could mean more than social distancing until more people can get vaccinated against this novel virus. For example, what if you could simply take a pill before going into a public space that would prohibit the virus' entry into human cells?
That's what research underway at the University of Guelph is trying to uncover. Food Science professor, Dr. Paul Spagnuolo, and his team are looking at how COVID-19 enters and affects host cells. 
Understanding the virus' mechanisms can then enable researchers to inhibit entry using nutraceuticals, which are bioactive food-derived compounds that can fight diseases or promote health. 
Specifically, the team are researching how they can use nutraceuticals to inhibit the binding of COVID-19 to the spike (S) glycoprotein to prevent COVID-19 from entering the cell.
"There's currently no nutraceutical on the market that inhibits COVID-19 cellular entry," says Spagnuolo. "Through our research, we want to familiarize ourselves with the virus' entry mechanism and how we can use this knowledge to formulate a therapeutic drug to combat the virus' method of entry."
With mass vaccination clinics across Ontario, many people have already received their first vaccination; however, with the two-shot vaccines such as Pfizer-BioNTech, people aren't fully vaccinated until they have received both shots. 
This supplement could be used as an extra layer of protection with the vaccine, says Spagnuolo. 
Spagnuolo's motivation to pursue this research is based on previous studies conducted worldwide that used computer models to outline several food-derived compounds that may help inhibit COVID-19 from attaching to human cells. These studies have further provided the foundation on which Spagnuolo can test the efficacy of the selected food-derived compounds on their ability to combat COVID-19.
In partnership with Ontario Veterinary College Prof. Sarah Wootton, Spagnuolo uses a benign pseudo-virus containing a key surface protein that will allow attachment to the human cell receptors. 
He's looking to use this pseudo-virus to screen around 1,000 food-derived compounds to see which will bind to the virus and prevent COVID-19 from binding to human cell receptors. Ultimately, he hopes a therapeutic can be taken in pill form that would act as a preventative for individuals at risk of exposure to the coronavirus.
Nutraceuticals are a relatively new and active area of study and an innovative area for the future of medicine, nonetheless. Spagnuolo specializes in isolating and analyzing various food-derived bioactive compounds for their medicinal potential. His most well-known research endeavour involves looking at nutraceuticals' anti-cancerous properties such as avocatin-B, an isolate from avocados.
This research is supported by the University of Guelph COVID-19 Research Development and Catalyst Fund.