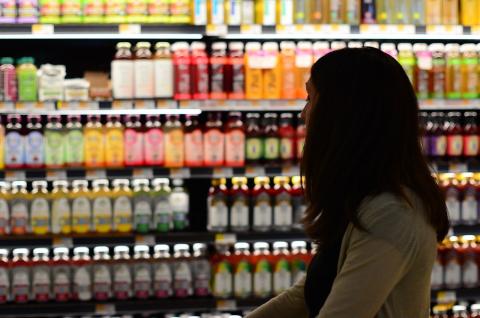 by Karli Longthorne  
The threat of a second wave of COVID-19 infections may amplify food demands and supply shocks if better control and preparedness measures aren't in place for the food processing sector, says a U of G researcher. 
Prof. Getu Hailu, Department of Food, Agricultural and Resource Economics, predicts more challenges ahead if we don't change some basic approaches to processing.  
"The COVID-19 pandemic is not just a public health issue, but a food supply issue," he says.  
The food processing industry plays a pivotal role in supporting Canada's economy—employing about 19 per cent of Canada's manufacturing sector employees. The food and beverage sector accounts for about 17 per cent of manufacturing revenue and 1.7 per cent to the Canadian GDP—and it feeds the nation, even during a global pandemic.  
As public health containment measures— including social distancing, isolation, and mandatory closures of non-essential services (i.e., restaurants and bars) are slowly lifted, Hailu says consumer behaviour such as panic buying will re-occur if a second wave of the virus hits, leading to lasting implications for food processors. 
Hailu says that when aggressive containment measures are in place and consumers are well informed about food supply, we may only see a slight growth in retail demand, rather than a spike that leads to shortages. 
"When aggressive containment measures are in place, consumers aren't as panicked about food supply running out," he says.   
Of great concern to Canada's 6,210 small- to medium (SMEs) food processing establishments is the extent to which the threat of a second wave of COVID-19 may exacerbate financial losses, with extreme cases resulting in bankruptcy.
With food processors facing new cost categories—such as increased employee screening, staggering shifts, safety and sanitation practices—many SMEs with limited cash flow flexibility may struggle to pay the added cost of disruption to support themselves and their employees.
Small businesses account for 90 per cent of employers in the food processing industry, says Hailu. "Their survival rate may only be counted in days or weeks due to demand and supply shocks from COVID-19," he says.  
SMEs will tend to go out of business more than larger businesses. Due to their limited working capital (the amount of cash and other assets a business has available after all its current liabilities are accounted for), businesses could quickly become bankrupt because of liquidity constraints.  
Hailu highlights the importance of targeted supports aimed at providing financial relief for SMEs. Government measures such as tax breaks, extended deadlines to pay taxes and deferral to pay customs duties that reduce operational costs may be effective in preventing bankruptcies of SMEs.  
"These types of government measures are expected to help Canadian business cope with financial risks, reduce layoffs, and prevent bankruptcy during and after the pandemic," he says.
A research paper about Hailu's study can be found here: https://onlinelibrary.wiley.com/doi/full/10.1111/cjag.12241, in a special edition of the Canadian Journal of Agricultural Economics. 
This research story is from one of 18 articles on various aspects of COVID-19 and the Canadian agriculture and food sectors, in a special edition of the Canadian Journal of Agricultural Economics.