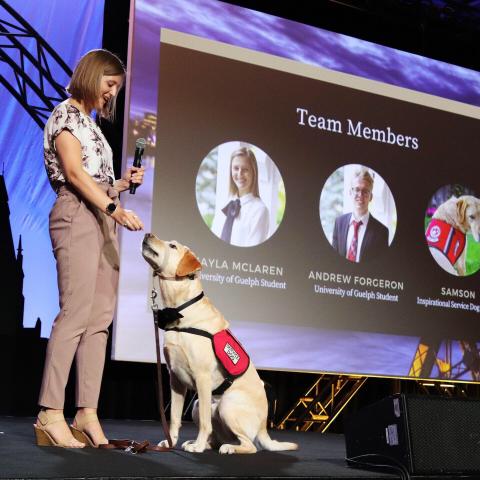 By Mya Kidson
Consensus standards exist in many fields – but not for service dogs. They're trained to meet the needs of their handlers, but universal standards about what constitutes an effective service dog are vague or non-existent. A student research team at the University of Guelph says the efficiency and effectiveness of producing such dogs could be greatly enhanced if such standards were implemented.
University of Guelph B. Comm. students Kayla McLaren and Andrew Forgeron from the Department of Marketing and Consumer Studies, found that there were no universal and validated quality assurance standards for service dogs within Canada and a widespread belief that such standards would be of great value.
This research was conducted in various ways including a review of various journal articles, observational research, and interviews with various stakeholders. McLaren and Forgeron's research and solutions led them to become finalists at the Canadian Standards Association (CSA) Academic Challenge competition held at the 2019 CSA Group Annual Conference in Ottawa.
Service dogs play a vital role in improving the wellbeing and independence of many people living with disabilities, say McLaren and Forgeron. Yet without universal quality assurance standards, the process of acquiring a properly trained service dog becomes potentially risky and even subject to "counterfeit" service dogs.
It can also be confusing for individuals seeking a service dog to sift through a myriad of organizations to find one that provides service dogs tailored to their needs – and most have a long waitlist.
"This is an industry that has not received the attention that it deserves," says Forgeron. "We found that there are so many people who constantly struggle on a daily basis and who could certainly benefit from a service dog, but we just do not have the ability to fill this demand."
Forgeron notes that the two-year wait for certain types of service dogs could be reduced if quality assurance standards were developed. Having clear standards for breeding, training and certifying service dogs for specific tasks would encourage more suppliers to enter the marketplace simply because they would then have a clear set of defined expectations to guide a business plan.
He suggests implementing a national service dog registry so that people who need service dogs are directed to one main site instead of several individual organizations. Such a registry would also allow business and government to easily verify that a specific dog is indeed a real service dog, and not a pet wearing a counterfeit vest purchased online.
McLaren says public education is needed about the service dog industry.
"With no single and reliable source of information out there, people are unaware of what constitutes a properly trained service dog, how they can go about getting one if they are in need or how to respectfully act when they see a service dog and its handler," he says.
As finalists in the CSA competition, McLaren and Forgeron are hoping that their ideas will gain a foothold in the standards community. This would mean expanding their research to study the service dog industry across Canada and the USA, establishing a partnership with various stakeholders which could then lead to a consensus standard and be accepted nationally.
This research was overseen by University Prof. Emerita Anne Wilcock, Program Advisor for the CSA Academic Challenge. McLaren and Forgeron's co-advisors include Dr. Julia Christensen Hughes, Founding Dean of the Gordon S. Lang School of Business and Economics at the University of Guelph, and Jacqueline Gori, subject expert.