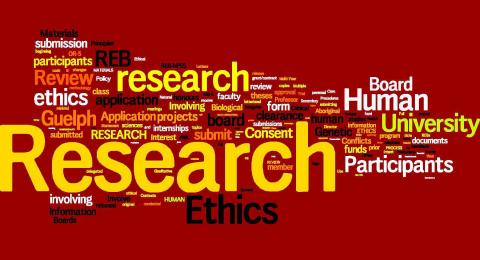 By Liz Snyder
Research Ethics submissions have moved from a paper-based system to one that is online, streamlining management of ethics protocols and the ethics review process for both researchers and review boards.  
Researchers now complete their ethics protocols using a 'smart' e-form with branching logic and hover-over help text.  The new system routes ethics protocols electronically through the approval process and researchers can view their submission along the approval pathway.
The Research Ethics module of ResearchLink was launched in December, 2016 and has already been put to the test.
Human Health and Nutritional Science Associate Professor and Research Ethics Board Natural, Physical and Engineering Sciences (REB-NPES) chair, Lori Vallis, says her committee has looked at several submissions in the new system. She says, as expected, there were some hiccups, but the system has benefits she hadn't even foreseen – for example, educating current researchers about the ethics review process. "You can now hover over a question to find out why you have to address it with your research ethics application," she says.
On top of the advantages of having protocols all in one place, Stephen Lewis, Department of Psychology Professor and chair of the REB (General) says training the next generation of researchers how to go through a research ethics submission is another bonus of the system. 
"Interestingly, it also has pedagogical value in that it can be used by undergraduate and graduate students, either in their own research or in a class, to complete different REB protocol components and obtain feedback from faculty researchers; this is a novel aspect of the system and perhaps an unintended benefit," he says.
ResearchLink, a research database and web portal that is accessible 24/7 from anywhere in the world, was announced at a kick-off event on October 2, 2015.
Arvinder Magon, project manager for ResearchLink, says Research Ethics was the first module to be launched because the user group is smaller compared to those who will be using the system for grants and contracts and lessons learned from rolling out this smaller module first will be applied to the rollout of the next larger module.  It was also important to move Research Ethics out of a paper-based system to maximize compliance with the Tri-Council Policy Statement: Ethical Conduct for Research Involving Humans (TCPS) audit requirements, and as part of the ResearchLink Steering Group's risk management strategy
"Research Ethics protocols were using manual processes and these were supported by a Word-based application form.  We wanted to move them into the 21st century," Magon says.
It's a far cry from School of Engineering Professor Michele Oliver's first ethics application in 1984 -- done on a typewriter -- and up until the launch of ResearchLink, many components of the REB submissions have been done with pen and paper.  "We've come a long way in a short time," Oliver says.
Because it is such a long way to come, there is a learning curve to using the new system, but there are training systems in place and one-on-one help is also available. 
The next phase for ResearchLink will be grants and contracts, followed by animal care, and environmental health and safety.
Vallis looks forward to the next phases of ResearchLink. "Ultimately, down the road when things are integrated, this system is going to be great," she says.
ResearchLink is funded by the Research Support Fund.