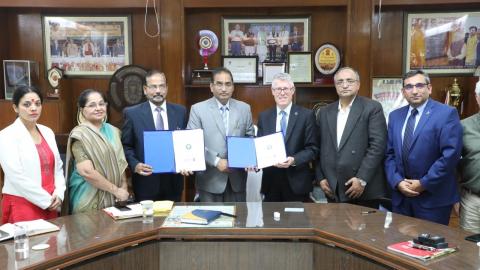 University of Guelph establishes powerful research, innovation, and training partnership with leading Indian agricultural university
Building on years of informal partnership, University of Guelph has established a formal relationship with India's CCS Haryana Agricultural University (HAU). The partnership will build on UofG's and HAU's shared expertise in agricultural research and education, catalysing research collaborations, innovation and entrepreneurship, student and faculty exchanges, training experiences, and the transfer of knowledge.
The UofG-HAU partnership was formalised through a Memorandum of Understanding between the two institutions, signed by HAU Vice-Chancellor Singh, and UofG Vice-President Research, Malcolm Campbell, in a ceremony at HAU in Hisar, India.
HAU is a leading agricultural university in India, with longstanding strengths in crop development and animal science. HAU has a history of creating new, important crop varieties and agronomic practices that provide food for both livestock and hundreds of millions of people. HAU's work in animal science provides the fundamental underpinnings for India's enormous livestock sector. More recently, HAU has been a leader in creating substantial opportunities for innovation and entrepreneurship for students, researchers, and farmers alike – fuelling the creation of a generation of "agri-preneurs".
Vice-President Campbell is enthusiastic about the prospects for the HAU-UofG partnership.
"We both bring a lot to the table for joint collaboration," says Campbell. "We have a tremendous amount of shared interests, and, crucially, we both have phenomenal students and researchers. The cross-pollination of experience and ideas, powered by incredible people, will be game-changing for both institutions."
"We are addressing questions and training thought leaders for problems of global importance – feeding the world's growing population, grappling with climate change, protecting our environment, and safeguarding global health. These huge challenges will absolutely require the kind of ideas, discoveries, innovations, and highly-skilled trainees that will emerge from the UofG-HAU partnership. Collectively, we will be working to make a difference – to realise UofG's ambition to improve life."
Vice-President Campbell acknowledged the critical roles played by HAU's Vice-Chancellor Singh, Director of Research S. K. Sehrawat, and Professor Ravi Gupta, as well as UofG's Professors Clarence Swanton and Pavneesh Madan to bring the formal partnership into being.
This story is part two of a three-part series on how University of Guelph strengthens and grows partnerships in India. The U of G has signed four partnership agreements with major post-secondary institutions in India. They include formal agreements in research, education and outreach, strengthening UofG's role as a global leader in veterinary medicine, one health and agriculture.