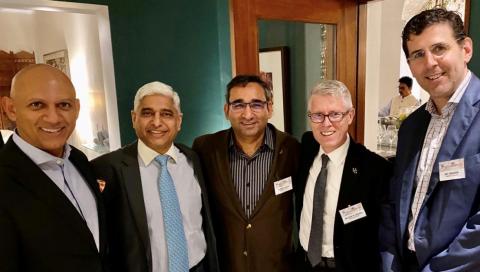 University of Guelph reinforces partnership with India, and creates formal ties with leading Indian comprehensive university
University of Guelph is growing its relationships with India and its academic institutions, including establishing formal ties with a lead Indian comprehensive university, Guru Jambheshwar University (GJU).
University of Guelph concluded over a week of partnership meetings in India, connecting with over a dozen universities, meeting with Canadian diplomats, and establishing new formal relationships with key institutions.
Speaking at a Shastri Indo-Canadian Summit in Delhi, Vice-President Research, Malcolm Campbell, noted the incredible reciprocal opportunities available through UofG-India partnerships. "UofG's mission to improve life resonates strongly in India, where there is a shared desire to use discovery, innovation, education, training, and outreach to make a positive impact on people's lives, every day."
"UofG's comprehensive strengths coupled with discipline-specific global leadership; our learner-centred focus coupled with research intensity; our ability to connect the local to the global – these features of our university align perfectly with India's approach to addressing the world's greatest challenges…and its greatest opportunities."
Campbell notes that this perspective was echoed by leadership and diplomats at the Canadian High Commission at a special dinner reception at Canada House in Delhi, and set the stage for a very productive week of partnership development, establishment, and consolidation.
In keeping with this, UofG's recent mission in India culminated with the establishment of a formal partnership with GJU, a leading Indian comprehensive university. With great strengths in subjects that range from marketing to nanotechology, GJU is a natural fit for UofG's comprehensiveness, as well as its approach to a "complete student". GJU is well known for its emphasis on the importance of the humanities to have a necessarily-broadened world view. This importance is highlighted by GJU's 2500 seat state-of-the-art performance auditorium.
GJU's Vice-Chancellor, Dr. T. Singh, signed a formal Memorandum of Understanding with Vice-President Campbell in a ceremony in Hisar, India that also included the GJU's senior leadership.
UofG's mission to India also involved Assistant Vice-President Graduate Studies, Professor Ben Bradshaw, and was orchestrated by UofG Professor Pavneesh Madan. Vice-President Campbell acknowledged the incredible work done by Professor Madan, and groundwork laid by him and OVC Dean Wichtel to establish the GJU partnership.
This story is part three of a three-part series on how University of Guelph strengthens and grows partnerships in India. The U of G has signed four partnership agreements with major post-secondary institutions in India. They include formal agreements in research, education and outreach, strengthening U of G's role as a global leader in veterinary medicine, one health and agriculture.