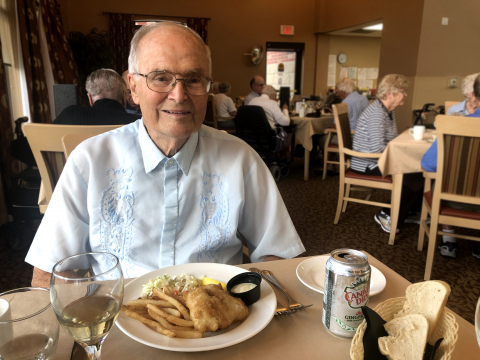 By Ariana Longley
Food waste weighs heavily on the minds of retirement community residents who have experienced food insecurity at some point in their lives, according to University of Guelph researchers.
Prof. Bruce McAdams in the Department of Hospitality, Food and Tourism Management and his team at the University of Guelph interviewed elderly people in two Ontario facilities to determine attitudes toward food waste. They wanted to help develop creative ways to help alleviate potentially negative emotions about food waste.
They found guilt associated with food waste was an overwhelming emotion with some participants of the study, and that it can lead to a decrease in residents' quality of life. The problem is that the cultural trend towards offering choice and the North American association between value and quantity of food is spilling into retirement communities. Portions are simply too big.
McAdams suggests that including residents in meal planning – so not as much goes to waste -- may be one way to combat food waste and the associated feels of grief in residents of these communities.
"Retirement community organizers have great chefs that plan high-quality meals, but they haven't thought about how food waste could affect residents' wellbeing," McAdams says.
Retired living communities are housing options for seniors who require help with daily activities, but would still like to remain independent. While some of these retirement communities include kitchenette areas within the residents' private suites for seniors to cook their own meals, they often have meal plans that including having two or three meals provided for them by the community.
McAdams and his team interviewed 16 individuals, asking about their experiences with food security and their thoughts on food waste within their living spaces.
All the interviewees had experienced some form of food insecurity, through the Great Depression and the years surrounding the Second World War. Residents recounted food scarcity during their childhoods, and noted that during those times, food was valued almost as much as money. While living on rations and food stamps, they became accustomed to eating little and not wasting anything they were given.
One participant described saving their bread crusts until the very end of meals to wipe up anything that left on the plate.
So excessive-portion habits borne by some parts of the food industry leave them cold. They say that their portion sizes are too big and when they can't finish the overflow of food they receive, they often feel anxious and guilty about throwing it out.
Guilt coupled with the loss of autonomy many residents feel over their mealtimes, choices and portion sizes can lead to lower quality of life for many of the elderly who opted to live within these communities, says McAdams.
"Food remains a very powerful way to link residents to their memories while addressing both physical and emotional needs," he says. "If the food served reminds them of positive memories, rather than of periods characterized by food shortages, enhanced quality of life is very likely."
McAdams hopes to further explore the intricacies of how feelings surrounding food waste impacts the mental wellbeing of elderly residents within retirement communities.
This research was published in the Journal of Housing for the Elderly and was funded by the University of Guelph's Undergraduate Research Assistantship program.