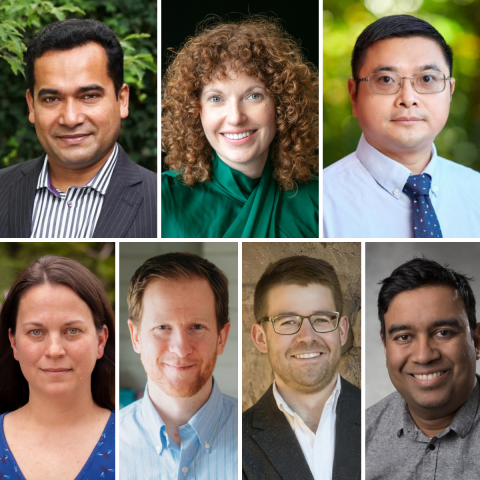 Seven University of Guelph researchers have received the 2023 U of G Research Excellence Awards.  
Dr. Ataharul Chowdhury leads an interdisciplinary research platform to mobilize knowledge and skills to counteract misinformation in agri-food, rural and climate change domains and help improve the well-being of agri-food and rural communities worldwide. 
Dr. Jennifer Geddes-McAlister uses mass spectrometry to study proteins involved in plant and human interactions with disease-causing pathogens and aims to provide fast and effective treatment for microbial infections and prevent the spread of antibiotic resistance. 
Dr. Yuanfang Lin specializes in quantitative marketing research. He develops analytical models to study firms' competitive strategies in pricing, product innovation and distribution. He also investigates consumer uncertainty when making purchases. 
Dr. Jennifer Murray examines how experiences with drugs of abuse, including opioids, nicotine, and cocaine, alter a person's behaviours and priorities, conditioning the brain to seek them out. She aims to reduce the appeal of these substances by manipulating these learning processes. 
Dr. David Renaud focuses on reducing antimicrobial use and using new technologies to improve calf health and welfare. He is recognized among researchers, veterinarians and producers as an expert in calf health management. 
Dr. Gus Skorburg explores the ethical, legal, and social implications of artificial intelligence, especially the impact of Large Language Models in healthcare. 
Dr. Eranga Ukwatta, College of Engineering and Physical Sciences, develops AI-based tools that can automatically detect irregularities in medical images, improving how quickly and accurately a clinician can diagnose disease and illness. His research has the potential to impact both human and veterinary medicine.