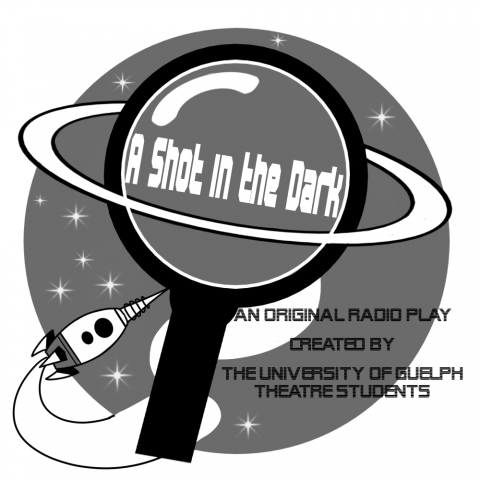 By Caitlin Ford
Students in the University of Guelph's theatre studies program collaborated virtually during the COVID-19 pandemic to bring a pandemic-themed comedy, A Shot in the Dark, to life as a radio play.
The fourth-year ensemble students – who were led by Dr. Peter Kuling, an assistant professor in the School of English and Theatre Studies – were in rehearsals for their final performance when Ontario first entered lockdown in March 2020.
"The students were preparing for their end-of-semester production of George F. Walker's Suburban Motel when all rehearsals came to a halt," said Kuling. "We needed to switch gears and focus on a project that could be completed safely at home—this is where the idea for a radio play began."
In June 2020, Kuling and his students began working on a play that could be broadcast on the radio instead of being viewed in a theatre. The show could be virtual and the ensemble could write and perform together despite lockdown restrictions.
The group included theatre studies ensemble members Oren Bowes, Sam Majoros, Graeme McLelland, Sydney Perkins, Thomas Smith and Lucy Wong, all of whom wrote, produced and starred in the radio play. Theatre colleagues from other Canadian schools joined the cast to fill out the 30 plus characters in the show. Kuling was also heavily involved in the project and lent his voice to the production as the play's narrator.
A Shot in the Dark takes place in 1918 when a group of Canadians seeking a cure for the Spanish flu are sent into outer space. After a wrong turn lands them on Pluto, the group must find a cure for the flu and a way back to Earth.
The 60-minute radio play, described by Kuling as a "sci-fi detective comedy," is a lighthearted narrative centred around a historical pandemic. He believes humour is just what is needed during periods of uncertainty.
"The students knew there was something good about smiling through tough times," said Kuling. "The play's storyline deals with the difficulties of a pandemic, but it's been uplifting to be able to share laughter with the audience."
Although it was a tough year for the dramatic arts, Kuling is grateful that A Shot in the Dark enabled students to learn about virtual collaboration, multimedia and radio theatre.
"Our radio play has given us the opportunity to share our theatre training beyond in-person shows and give our ensemble students a doubly enriched process," he said.
The team is in the final stages of recording and eager to share their work at the end of the summer. Kuling plans to release the play on U of G's radio station and on an online platform where it can be downloaded for free. As for the future of this project, he says he's happy to continue working on radio plays if audiences are receptive.
"We're treating this project like a pilot episode of a radio series," he said. "The group has become attached to all of the characters, so if it does well, we'd love to see the characters take on more adventures in the future."
This project was supported by U of G's Creating in a Time of Coronavirus fund and the College of Arts.