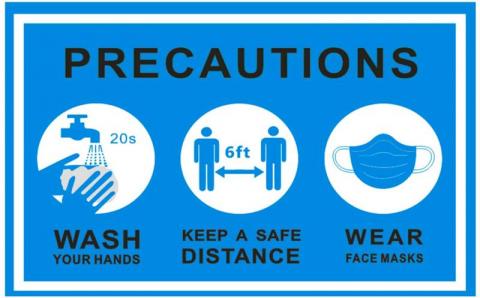 By Otaiba Ahsan
People at lower risk of infection from COVID-19 are more likely to engage in socially irresponsible behaviours that put vulnerable groups at risk, says a new University of Guelph study, but a social nudge can help improve cooperation.
Dr. Tongzhe Li, a professor in the Department of Food, Agricultural and Resource Economics (FARE), is leading a team from her department and collaborators at Bocconi University in Milan, Italy.
They hope to learn why certain people fail to take public health guidelines seriously and who is more likely to engage in riskier activities. Li and her team believe the study findings can inform policy and encourage socially responsible acts in the long term.
"We believe that our research will especially help protect the vulnerable such as immune-compromised or the elderly, as well as those who are more likely to suffer in the long-term, post-pandemic economic recovery process," says Li, director of the FARE Laboratory for Experimental and Applied Economics.
"It's been observed that people who face lower consequences are less likely to help avoiding a public disaster, and our hope is that this study will guide us to understand their behaviour and sway them in the right direction."
A striking result is that the team found higher but not fully responsible behaviour among vulnerable individuals. Although it's in their best interest to fully contribute to a collective action, many participants do not follow that optimizing strategy, negatively affecting aggregate social welfare and themselves, says Li. Figuring out how best to communicate with and incentivize these vulnerable individuals is worth further research, she adds.
Early study results show the team was able to nudge some participants toward more socially responsible behaviour, but not for individuals with the lowest risk of severe damages from an irresponsible social action. This result indicates that individuals facing lowest consequences from the pandemic are unlikely to respond to "help the vulnerable" messages tested in the study.
During the first stage of the project, the researchers used experiments to investigate individuals' decision-making and their behavioural responses to various public communication strategies.
Then, they surveyed those participants about their reported attitudes and actions during the COVID-19 outbreak. Correlating socio-demographic and stated behavioural preferences as well as individual COVID-19 experiences to behaviour in the experiment, they find nudged individuals to contribute more when they live with someone over age 60.
Certain groups are more susceptible to contracting the virus and may carry heavier economic burdens, she says.
She says the study addresses timely questions about economics and behaviour that can help encourage social distancing and discourage actions that may harm the public.
"We're optimistic that we'll be able to play a part in protecting vulnerable groups from COVID-19 while slowing the spread of the virus."
This research is supported by the University of Guelph COVID-19 Research Development and Catalyst Fund.