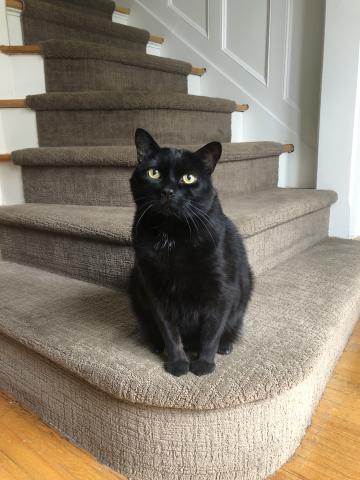 By Caitlin Ford
Pets can contract SARS-CoV-2 infections, according to a University of Guelph study that will help public health departments make informed recommendations for pet isolation measures during COVID-19.
Department of Pathobiology professors Dr. Dorothee Bienzle and Dr. Scott Weese worked with departmental lab technicians David Marom and Joyce Rousseau to determine the infection status of companion animals – notably dogs, cats and ferrets – in households of people with COVID-19. 
Findings early in the pandemic showed pets in households of persons with COVID-19 are also susceptible to infection and should be kept separated from their infected owners. These results agree with reports about SARS-CoV-2 infection in cats in Hong Kong and China during the early months of the pandemic and subsequent infections reported from other countries. 
"In early 2020, it was reported that two cats in households with COVID-19 patients were infected with SARS-CoV-2 and, based on receptor similarity, ferrets and dogs and other animal species were also likely susceptible to the virus," said Bienzle. 
To help public health departments make informed recommendations regarding pet isolation measures, the researchers studied the presence of the COVID-19-causing virus in these pet populations. 
Their main goals were to identify the susceptibility of pets to SARS-CoV-2; look at clinical features of virus infection in pets; track the type, onset, and duration of antibodies to the virus; and determine the duration of viral shedding, or how long the animals are contagious. 
These findings can help keep pets healthy and prevent the spread of SARS-CoV-2 to other pets and potentially to people in contact with infected animals. 
The investigators took more than 300 nasopharyngeal, oral and rectal swabs from pets of people who had contracted COVID-19 in the Wellington-Dufferin-Guelph, Brant, Halton and Niagara regions. These swabs were tested by polymerase chain reaction (PCR) analysis, which amplifies viral genes to measure how much virus is in a sample. 
If the animals tested positive for SARS-CoV-2, they were retested until a negative result was found. Several positive PCR results have been found. 
In addition, approximately 100 pets were tested for SARS-CoV-2 antibodies. Approximately 54% of cats and 43% of dogs have antibodies to SARS-CoV-2  indicating prior infection among the pets. 
"These findings illustrated that cats and dogs in households of persons with COVID-19 are susceptible to infection, and they underline that appropriate isolation of infected persons from pets should be instituted," said Bienzle. 
"Understanding this may have particular implications for long-term care facilities, for example, where pets provide important companionship in close physical proximity to persons who are highly susceptible and more likely exposed to SARS-CoV-2."
The team is now working with the Ontario Animal Health Network (OAHN) and faculty at the University of Montreal to continue surveillance of pets in Ontario and Quebec. 
Funding for this research was provided by the University of Guelph COVID-19 Research Development and Catalyst Fund, the Ontario Veterinary College, the Department of Pathobiology and the OAHN.