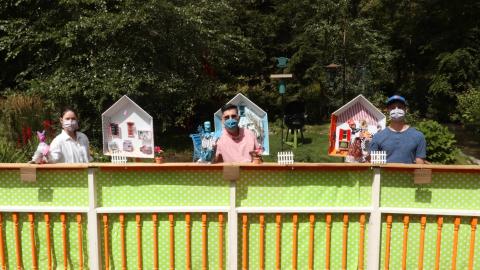 By Mya Kidson
Performance and art can bring healing and promote social interaction, especially during times of pandemic isolation. This was the focus of a recent research project from U of G.  
In the summer of 2020, Prof. Troy Hourie, from the School of English and Theatre Studies, collaborated with Puppeteers Andrew Gaboury and Colleen Snell as well as U of G student production interns Samantha Adams, Emily Brown and Liaba Nisar to create a Dom Roberto-style production called ODDITI(m)ES — A Tragic Comedy in Pandemic Times about social and physical distancing. 
Dom Roberto-style puppeteering is a traditional Portuguese glove puppet theatre. This production wove together sketches about social distancing and other pandemic-related moments. 
"This project is an ode to the hardships we've all endured during the past few months," says Hourie. "For many, it's been a hard transition to our new socially distant lifestyles when many of us are so accustomed to being close to work affiliates, friends and family, pre-pandemic."
This initiative shows how creatives have been inspired to develop new ways to keep community members close but physically distanced – the so-called "together-apart" movement, says Hourie. 
The troupe held two performances in his woodland backyard in Aurora, Ont. Family members, friends and visitors from Aurora and Guelph were seated on a terraced patio at safe distances. 
The second performance was also live streamed internationally to hundreds of followers of Hourie's work in Portugal, France, Kenya, New Zealand and the U.K. He hopes to present it again in Guelph or Mississauga, where his collaborators live and work.
The arts, especially performance, often involve gatherings. Artists from all around the world are modifying their practice to engage with community members in a COVID-friendly way. 
This may include the use of virtual platforms or outdoor events that allow the public to remain socially distant. 
Hourie says the live-action comedy promotes a sense of community and helps audience members feel less isolated in their struggles during the pandemic. 
This research project also shows how important art and performance are, especially for vulnerable groups such as older adults, youth and individuals who live alone, as well as apartment dwellers who may have limited ability to connect with others. 
"Performance and art practitioners around the world are sharing their art to bridge connection with others to improve life under these difficult conditions," says Hourie. "We are not only connecting with our local community through art but also globally. And this helps us recognize that struggles we currently face on a local spectrum are experienced across the world."
This research is supported by the University of Guelph's Creating in a Time of Coronavirus Fund.