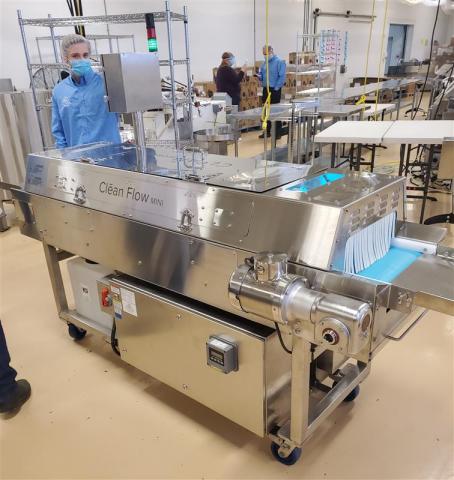 By Caitlin Ford and Dianne Priamo 
A University of Guelph project has adapted food science technology to fight COVID-19. 
Dr. Keith Warriner, a food science professor in the Ontario Agricultural College, along with post-doctoral fellow Mahdiyeh Hasani and research assistant Fan Wu, adapted Clean Flow technology – developed as a fruit and vegetable surface-cleaning appliance – at the beginning of the pandemic to sanitize personal protective equipment (PPE) amid hospital N95 mask shortages. 
"Our technology ticks all the boxes on what constitutes an ideal mask decontamination method, and I knew this research could help alleviate PPE shortages," said Warriner. 
Developed in 2006, Clean Flow utilizes Warriner's food safety technique called the gas phased-advanced oxidation process to decontaminate a broad range of fresh produce. This technology was commercialized in 2015 with Paul Moyer of Moyer's Apple Products and Mark VanderVeen from Court Holdings to establish the Niagara-based company Clean Works Inc. 
"The resulting Clean Flow units found utility for fresh produce decontamination within Canada and the U.S., and the same technology was adapted in constructing the Clean Flow Healthcare Mini that could be applied in health-care settings for PPE," said Warriner.
Clean Flow disinfects with antimicrobial hydroxyl radicals, which are generated through ultraviolet degradation of hydrogen peroxide and ozone. 
The process is rapid, eliminates microbes in crevices and leaves no residues, setting the device apart from other methods which were unable to reach microbes in the mask folds without causing damage. 
Approval by Health Canada required that the cleaning process was safe, did not alter mask function after 20 decontamination cycles and left no toxic residues. It was also critical for the Clean Flow process to inactivate the COVID-19-causing coronavirus. 
The team involved Dr. Tracey Campbell of McMaster University, who took on the COVID-19 inactivation work while Warriner's group optimized the process parameters. 
The supplier of the N95 masks, 3M Canada, performed the mask function tests with the National Research Council, coordinating activities among different groups, including front-line workers. 
"In a process that would usually be months long, the collaboration between all parties meant that Clean Flow received regulatory approval to be used in a clinical setting within a month," said Warriner.
Clean Flow units are now used in hospitals and health care facilities across the country as an efficient and cost-effective way to ensure front-line workers have access to clean PPE. 
Warriner says the treatment has also gone beyond N95 masks, with successful trials with other PPE including surgical masks, goggles and face shields. Future developments of Clean Flow could expand to disinfecting other surfaces and materials and even sanitizing entire rooms.  
"So far, the Clean Flow technology has been further adapted to decontaminate reusable bags, with the first unit being deployed in Sobeys in Orangeville," said Warriner. "The applications are endless and the publicity around mask decontamination has stimulated interest in using the Clean Flow principle for processes globally – like decontaminating shipped boxes to ensure they don't harbour the coronavirus, or applications in decontaminating frozen fruit."  
This research was funded by University of Guelph's COVID-19 Research and Development Catalyst Fund, with contributions from Mitacs Elevate, McMaster University's Centre for Microbial Chemical Biology, Ontario Centres of Excellence, the Natural Sciences and Engineering Research Council, and the Ontario Ministry of Agriculture, Food and Rural Affairs through the Ontario Agri-Food Innovation Alliance.