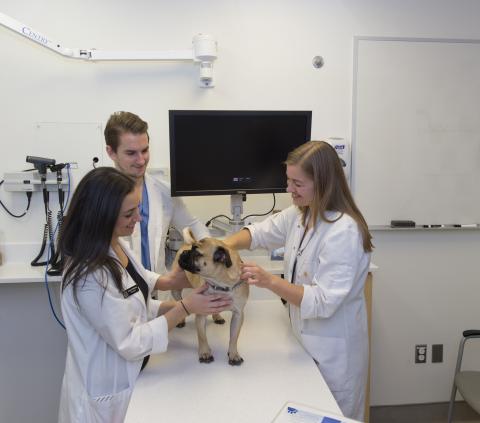 An Ontario Veterinary College (OVC) researcher, who specializes in pet nutrition, has been recognized for research excellence and innovation.
Dr. Adronie Verbrugghe, a professor in OVC's Department of Clinical Studies, has received a Research Excellence Award from the University of Guelph. Professor Verbrugghe, who is also Royal Canin Veterinary Diet Endowed Chair in Canine and Feline Clinical Nutrition, focuses her research on canine and feline nutrition.
"The impact of nutrition on health is a crucial, incredibly timely area of research, particularly as it applies to veterinary medicine" says vice-president (research) Malcolm Campbell. "Professor Verbrugghe's research explores the interplay between nutrition and medical outcomes, making fundamental discoveries and creating impactful innovations that have profound relevance to One Health – the continuum between environmental, human, and animal health" adds Campbell.
Dr. Verbrugghe's research explores how pet nutrition can affect metabolic pathways, inflammation and immunity, as well as the microbial environment in the gut – all of which are factors in obesity. A common nutritional disorder in humans and companion animals, obesity has become a global epidemic over the past three decades. Recently, Dr. Verbrugghe has expanded her research scope to include nutritional supplements for canine cancer patients and plant-based diets for pets.
"It is a great honour to receive a Research Excellence Award from the University of Guelph. It has been made possible thanks to the OVC nutrition team and multi-disciplinary collaborations. Research can only be excellent if it is a team effort," says Dr. Verbrugghe.
"This award is a not only a well-deserved acknowledgment of Dr. Verbrugghe's continued commitment to research excellence, it also highlights OVC's considerable strengths in One Health and translational discovery," says Professor Gordon Kirby, associate dean, research and innovation.
One of the few board-certified veterinary nutritionists in Canada, Dr. Verbrugghe is providing a Clinical Nutrition Service in the Companion Animal Hospital at the OVC Health Sciences Centre, which offers a residency training program for the European College of Veterinary and Comparative Nutrition. She played a critical role in the development and introduction of a companion animal nutrition curriculum for OVC Doctor of Veterinary Medicine students, knowledge they can use to help pet owners make informed nutritional choices for their pet.
"Nutrition is a critical component in preventive care for both the human population and our animal companions," says OVC dean Jeff Wichtel. "Dr. Verbrugghe's research is an excellent example of collaborative work underway with the Ontario Veterinary College, the Ontario Agricultural College and our private sector partners emphasizing our strengths as an emerging centre for companion animal and comparative nutritional research."
Dr. Verbrugghe, is also the chair of the organizing committee for the 1st Global Nutrition Summit – "What Does the Future Hold for Feeding Animals?", which will take place at the University of Guelph in August 2020.
The summit will bring together leaders in animal science, comparative nutrition and veterinary nutrition for the first time ever, and is in partnership with eight international animal nutrition organizations.
Created by the U of G's Office of Research and the Office of the Provost, the research excellence awards are an annual recognition award by which to highlight research achievements of recently tenured faculty members. Early career faculty who are one to two years' post-tenure are eligible.
Verbrugghe joins research excellence award recipients announced earlier: Mohammad Biglarbegian, CEPS; Noella Gray, CSAHS; Neil Rooney, OAC; Christina Smylitopoulos, COA; Jim Uniacke, CBS and Agnes Zdaniuk, CBE.  
Verbrugghe's research is supported by the Natural Sciences and Engineering Research Council, Canada Foundation for Innovation, Ontario Ministry of Research and Innovation, MITACS, WINN Feline Foundation, OVC Pet Trust and various pet food companies.