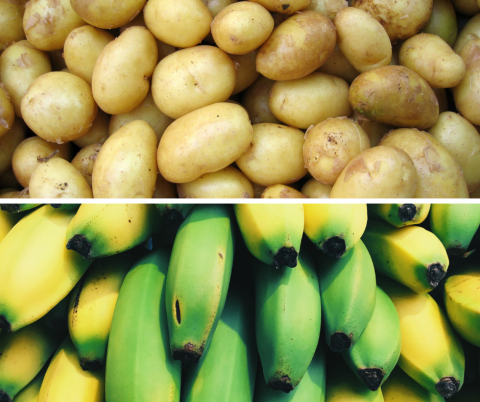 By Mya Kidson
Improving food security by promoting nutritious food crops for low-income countries is the goal of a new book whose co-authors include a University of Guelph professor. 
Dr. Helen Hambly Odame, a faculty member in the Ontario Agricultural College, aims to help ensure that root, tuber and banana (RTB) crops, such as potatoes, cassava and plantains, provide food security, or adequate and stable access to nutritious food, for people living in the world's poorest regions.  
In the volume, Hambly and interdisciplinary contributors from around the globe explore overlooked topics in agricultural literature, such as potato and sweet potato crop innovation in developing countries.   
For several years, she chaired the international advisory committee of the Root, Tuber and Banana (RTB) CGIAR Research Program. The Consultative Group on International Agricultural Research is a globally recognized food research initiative.  
"Root, tuber and banana crops supply tropical countries with food, raw material and feedstuffs," said Hambly. "However, they receive little attention in development-oriented projects compared to grain crops dominating agriculture, such as rice, wheat and corn." 
Rich in carbohydrates, RTB crops provide a cheap dietary energy and protein source. While they may provide less dietary energy than rice or wheat, they are a vitamin-rich and accessible food source in many regions of the world, Hambly said. 
"These crops also serve as a source of income for women farmers in developing countries and provide agriculture careers to youth in the local community," she said. "They also generate greater yields and are more economically and environmentally affordable." 
International agricultural research is integral to mitigating global hunger, said Hambly.  
"With pressure placed on the agri-food industry due to a growing global population, we are beginning to see how valuable these under-appreciated crops are — especially in communities already facing hunger and climate crises."  
By serving in a key governance role, Hambly has promoted more recognition of the advantages of RTB crops and the value of innovation in international agricultural research. She aims to foster a greater appreciation of agricultural systems, locally and globally. 
"Lots of agriculture research at the University of Guelph focuses on local food systems," said Hambly. "Local food systems and dietary sources here differ widely from those in developing countries. Yet, there is a growing recognition of the importance of climate-resilient crops like potato and sweet potato throughout the world." 
Learning about how food systems differ across the world and cultivating innovation can optimize global food systems and food security, said Hambly, but ensuring strong research and outreach for mobilizing this knowledge is the first step.  
Published by the CGIAR RTB Research Program, Root, Tuber and Banana Food System Innovations is intended to harness the untapped potential of RTB crops to improve global food security, stabilize agricultural income and build climate change resilience.