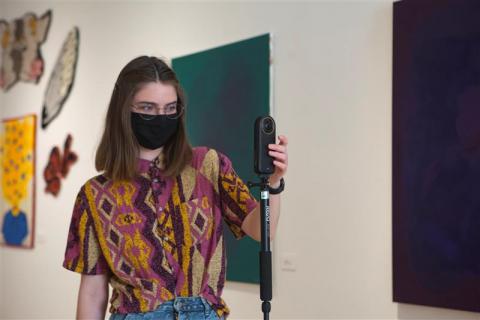 By Caitlin Ford
In response to COVID-19 art gallery closures, a University of Guelph project has used 360-degree photography technology to enable virtual visits to U of G galleries.
The project, called Creating Virtual Spaces for Artists and Performers, was led in 2020 by Dr. Christian Giroux, a professor in the School of Fine Art and Music; Dr. John Phillips, manager of the Interdisciplinary Design Lab in the College of Arts; and digital design technician Thoreau Bakker.
"The visual art world is always interested in how virtualization can be incorporated into our practices to reach a broad and dynamic audience," said Giroux. "The pandemic has accelerated the need for these technologies, and for us, it opened a doorway to virtually share art shows with people in the Guelph community and beyond."
Phillips and Giroux acquired technology to develop interactive tours of art galleries. They provided undergraduate students Emma Ongman and Emil White with different 360-degree cameras to create first-person walkthroughs of the exhibits.
These cameras have multiple lenses to capture 360-degree footage that is then stitched using special software into virtual tours for public viewing. Once uploaded, the virtual reality environments give viewers an immersive, online experience of the artwork.
"A big component of gallery shows is the actual setup and layout of the art," said Phillips. "The 360-degree walkthroughs highlight this by letting viewers navigate the gallery and click on the art pieces to reveal descriptions and high-resolution photos."
These virtual spaces allowed art galleries to display exhibitions even while they were closed to the public. The project included a collaboration to help the Art Gallery of Guelph (AGG) display its own exhibitions online.
Even after the initial project, the technology continued to be a valuable tool for students and the AGG. Undergraduate student Emil White has conducted various, ongoing 360-degree walkthrough projects during the 2021-2022 academic year.
"This project gave us such a great understanding of the 360-degree technology, which can be carried forward to future initiatives," said Phillips. "We have been able to create a number of educational resources to teach others about the technology, and Emil has provided a lot of support to students and the AGG."
White agrees that the virtual spaces proved to be an interactive and engaging opportunity for students and the public, spotlighting the value of virtualization in the arts.
"The 360 documentation projects have been very well received and have given people a sense of what it would be like to attend that gallery show," said White. "It's an easy and convenient technique that can be used for future shows, regardless of whether the school is operating in-person or virtually."
This project was funded by the University of Guelph's Creating in a Time of Coronavirus Fund and by the College of Arts.