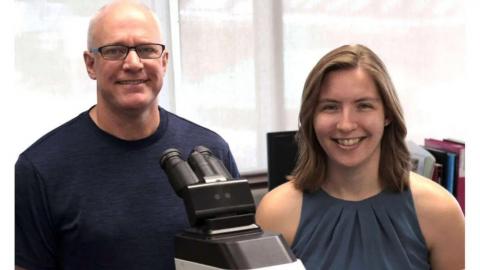 A study co-authored by University of Guelph researchers holds promise for improving the treatment of an aggressive form of human bladder cancer that is also found in dogs, cats, and cows.  
Published in the journal Genome Biology, the study was co-authored by Dr. Geoff Wood, a professor in the Ontario Veterinary College, and Latasha Ludwig, a U of G PhD candidate and doctor of veterinary medicine grad, as well as 50 researchers from 17 countries.  
This is the most comprehensive cross-species genetics study of its kind. The researchers uncovered specific genes and gene mutations in dogs and cats with urothelial carcinomas, a type of cancer that resembles the muscle-invasive bladder cancer found in humans. 
These findings hold promise for clinicians, potentially allowing them to pinpoint critical genes that could serve as therapeutic targets in the treatment of the disease in humans.  
Read the full article on the U of G News site: U of G Veterinary Research Advances Understanding of Human Bladder Cancer.