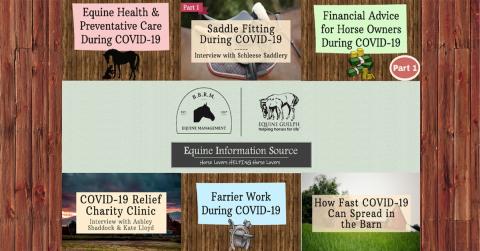 By Shagun Yadev and Cate Willis
To help struggling horse owners and facility managers navigate the pandemic, University of Guelph researchers have created resources to manage COVID-19 protocols and restrictions. 
Dr. Katrina Merkies, a professor in the Department of Animal Biosciences, along with undergraduate students Elizabeth Crouchman, Caleigh Copelin and Amanda St-Onge wanted to learn how riding facilities were managing the lockdown restrictions and what protocols they were implementing. 
"We were looking at the impacts on equestrian facilities, specifically horseback riding lesson programs in Ontario, and since the lockdown restrictions forced the closure of these programs, many of these facilities were faced with the continued cost for care of their horses while they had no revenue," Merkies said. 
"We noticed that there was a lot of misinformation, contradictory information and a complete lack of information about how equestrian facilities were expected to manage the COVID-19 restrictions." 
To combat this, the researchers created resources to help horse owners, including 14 informational videos and six public interest videos (available on YouTube), as well as biosecurity protocols, risk assessment tools for sporting events and return-to-work guidelines to ease horses back into fitness. 
The team created the resources by consulting available literature and guidelines on COVID-19 and worked closely with Equestrian Canada and Equine Guelph. 
They also conducted an online survey in July 2020. They emailed 157 riding schools and 72 responded. The team published their findings in the scientific journal Animals.
While analyzing the survey results, the researchers were surprised by a lot of the positive responses and outcomes listed by respondents. Some respondents said the lockdown enabled them to take a physical and mental break and re-evaluate their business model. 
"For some of them, they actually did make the decision to close their business while others did reassess their business model and realized they had no contingency fund," she said. "Now they will look at the earning potential of each horse and ensure they are making two to three times what a horse costs to keep."
Merkies said many equestrian facilities struggled during the first lockdown because they were ineligible for government funding. Although horses are an agricultural animal, many facilities had not classified themselves as an agricultural operation. 
"They're not a mainstream sport like hockey or baseball, so at the end of the season you can't just put away the equipment. You still have to feed and care for these animals, even when they are not being ridden." 
To help riding school facilities, Ontario Equestrian along with Jen Sweet, owner of Lions' Bridge Stable in Ayr, Ont., launched For the Herd, an emergency fundraising initiative to support lesson horses and riding school facilities in Ontario. More than $200,000 was raised, enough to provide some money to every riding school that applied for relief funding. 
"It was wonderful to see the horse community come together like that, and, and it's especially inspiring in the equestrian community where they tend to be quite divided by discipline," said Merkies. "Discipline didn't matter – it was about the horses and helping each other and taking care of the horses.
"I think that idea that they're not alone and we can all work together – that's a really important thing."
This research was supported by the University of Guelph COVID-19 Research Development and Catalyst Fund and the Department of Animal Biosciences.