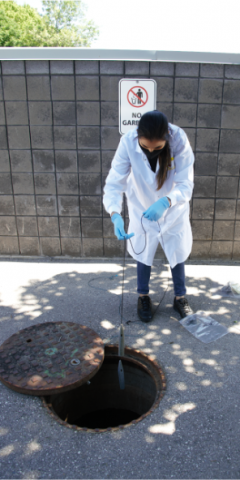 By Caitlin Ford
A University of Guelph wastewater project for early detection of food-borne illness has proven to be an invaluable tool for understanding the viral transmission of COVID-19 on campus and in the surrounding community.  
In summer 2020, Dr. Lawrence Goodridge, a professor in the Department of Food Science, and his lab team repurposed their research on food-borne illness surveillance to begin surveying U of G's wastewater for SARS-CoV-2 – the virus that causes COVID-19.  
Used to monitor COVID-19 infections on campus, the ongoing wastewater testing project involves sampling water from each of the University's residences, five days per week. The samples are then screened in Goodridge's lab for the virus, and daily results are published online for members of the community to see.  
Their reporting system follows what Goodridge describes as a "stoplight system," where red indicates a high viral level; yellow, low to moderate; and green, low to no virus detected in the wastewater.  
Although it cannot provide data on exact case counts, this population-level surveillance program can help public health officials estimate infections in the community. Goodridge says this is increasingly valuable as Ontario's government limited PCR testing in early 2022.  
"The data that we collect through this project is very useful. People can shed the virus for up to seven days before symptoms show and this can be seen in our wastewater samples," he said. "These signals indicate the infection before an individual is infectious and then people can begin isolating early – especially during periods of limited testing for COVID-19."  
Pandemic wastewater testing has been embraced by many health regions across Ontario – including broader efforts in the Wellington-Dufferin-Guelph region – but Goodridge says U of G's work is unique as it combines PCR testing and genomic sequencing. 
This process sequences the entire genetic makeup of pathogens to identify the COVID-19-causing virus and its variants in wastewater; other projects rely exclusively on  PCR testing.  
"The University of Guelph is a leader in terms of campus surveillance. Our approach is the most detailed across the country because we conduct both PCR and genomic sequencing on samples from every residence on every weekday, and publish the PCR results to a public dashboard," said Goodridge.  
Even as U of G continues to be a leader in wastewater surveillance in Ontario – collaborating, for instance, on the  Ontario Wastewater Surveillance Initiative– Goodridge says the success of this project reflects a homegrown, multi-departmental collaboration at the University.  
Other faculty members involved are Drs. Andrew Papadopoulos, Amy Greer and Scott Weese, all with the Ontario Veterinary College; Ed McBean and Heather Murphy, School of Engineering; and Marc Habash, School of Environmental Sciences. The project also received support from the U of G Physical Resources team and Residence Life staff. 
Goodridge hopes their multidisciplinary approach to public health will continue beyond the pandemic and that wastewater testing will become a common public health practice in Canada.  
"The pandemic has shown us the need to monitor emerging pathogens at the population level to alert public health of any indicators before they become major problems," he said. "My hope is that we continue regularly monitoring wastewater for emerging pathogens – both human types and zoonotic or animal diseases." 
The initial COVID-19 wastewater project was funded by the University of Guelph COVID-19 Research Development and Catalyst Fund, with additional contributions from Advanced Symbolics Inc.