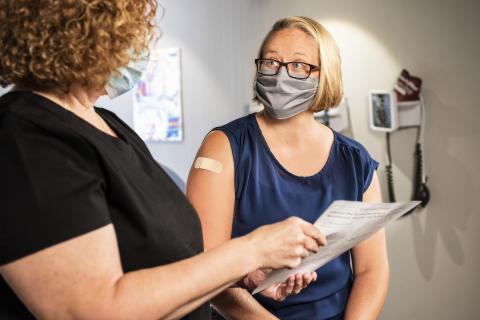 By Otaiba Ahsan
In a new study about public perceptions of vaccines, University of Guelph researchers hope to help improve decisions of Canadian policy makers and ultimately improve trust in COVID-19 vaccination programs.
The two-year project, begun early in the pandemic, has collected data through surveys and phone interviews to determine public concerns about COVID-19 vaccines.
"The understandings gleaned from this research will inform and guide Canadian policy makers and public health agents in how best to address concerns about vaccines among Canadians," says Dr. Kieran O'Doherty, professor in the Department of Psychology and director of the Discourse, Science, Publics Lab.
He worked with master's student Vivian Nelson and with Drs. Eric Kennedy and Claudia Chaufan at York University, as well as project manager Jenna Vikse.
"Ultimately, we hope to improve our understanding of Canadians' perspectives about approved COVID-19 vaccines, thereby benefiting health and well-being in the general population," said O'Doherty.
Initial findings showed concerns about the expedited development timeline for various COVID-19 vaccines. Some people felt they lacked enough information about vaccine safety and efficacy and were worried about potential side effects after immunization. Other people were unsure whom to trust for information about vaccines.
O'Doherty said the study can help public health decision-makers to become aware of prevalent concerns and to address these concerns. With more accurate information readily available, people will be able to make more informed decisions about vaccines for COVID-19, he said. 
The team has completed two surveys and a round of interviews, and plans to do more research. Respondents include people of various ethnicities, ages and backgrounds to ensure a more inclusive study.
While earlier interviews focused on COVID-19 vaccine concerns, O'Doherty and his team are now examining the impact of COVID-19 measures on schooling and child care.
Nelson posted her thesis to U of G Atrium outlining early findings from this research project.
"Feeling that one is not heard or ignored by decision-makers undermines trust of the public," says O'Doherty. "By improving this communication, trust between public health and the general population can improve and everyone becomes more knowledgeable, which is a goal of ours."
This research is supported by the University of Guelph COVID-19 Research Development and Catalyst Fund.