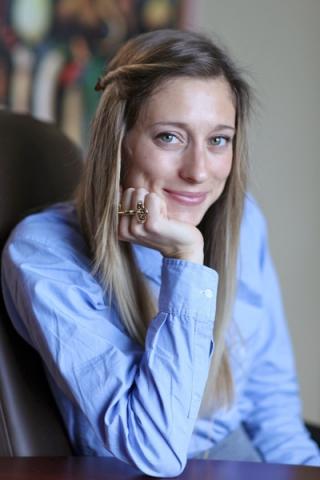 Innovation sector leader Jessica Bowes will be University of Guelph's inaugural Assistant Vice-President, Research Innovation and Knowledge Mobilization. Currently Vice-President, Commercialization at Bioenterprise Corporation Canada, Ms. Bowes will take charge of University of Guelph's Research Innovation Office. In that leadership role she will devise and implement strategy to advance research innovation at one of Canada's most innovative universities. This will involve providing leadership for the university's efforts around knowledge mobilization and commercialization, new venture creation, industry liaison, and R&D partnerships, including technology transfer.
Ms. Bowes is a seasoned leader in the research and innovation ecosystem, with almost a decade of leadership experience at Bioenterprise, one of Canada's leading agri-food business accelerators. She has also served as a Director-at-Large for BioTalent Canada, a catalyst for growth of Canada's bio-economy, and as a member of the Industry Advisory Committee for the Canadian Wine and Food Institute – bringing her real-world experience to the advancement of competitive business enterprises founded on strong R&D value propositions. Her business strengths are matched by academic acumen, with two degrees from the University of Guelph, including a graduate degree in human health and nutritional sciences.
"We are ecstatic about being able to appoint Ms. Bowes as the university's first Assistant VP for research innovation and knowledge mobilization," says UofG Vice-President Research, Malcolm Campbell. "Ms. Bowes brings not only tremendous practical strengths and experience to this new position, but also incredible energy and vision and passion for innovation that will be a positive game changer for our efforts to share our knowledge with the world in impactful ways that truly improve life," says Campbell. He notes that Ms. Bowes is an ideal appointee for this new position, which will positively transform and elevate UofG's longstanding strengths in mobilizing our knowledge for social and economic advantage – something of immense importance as we aim to recover from the negative effect of the COVID-19 pandemic on the economy and society at large. She will be a phenomenal boon to the UofG research and innovation team, and immensely appreciated by internal stakeholders and external partners alike – helping them to advance R&D that will have impact covering UofG's comprehensive strengths, from the social sciences and humanities to the life and physical sciences.
Ms. Bowes will begin her role as Assistant Vice-President on February 1, 2021. Professor John Livernois will continue leading the Research Innovation Office until September 2020, after which Directors Steve De Brabandere and Dana McCauley will work together with VPR Campbell to lead the office until Ms. Bowes begins her appointment. VPR Campbell extended gratitude on behalf of the University to Professor Livernois for the sterling job he did in leading the Research Innovation Office over the last year, especially during the extraordinarily difficult time of the pandemic. VPR Campbell also extended his gratitude to the selection committee who helped make this excellent appointment.