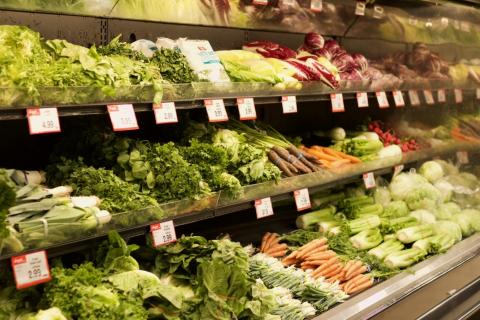 By Maleeka Singh
Experts say it's not a question of if we get a second wave of the COVID-19 virus it's a matter of when. So, what lessons have we learned about consumer behavior during the COVID-19 pandemic that can help Canadians and the food industry be more prepared for the next one?
The first thing we've learned, says University of Guelph's Prof. John Cranfield, Associate Dean- External Relations in OAC, and Professor in the Department of Food, Agricultural & Resource Economics, is that consumer purchasing behaviors have changed during the COVID-19 pandemic.
With the emergence of an event like COVID-19, consumers have had to adjust how and when they purchase food. "Some households have stocked-up on foods to reduce the number of times they need to shop for groceries, thus limiting their exposure to the COVID-19 virus," says Cranfield. As such, we expect to see a rise in the demand for storable and shelf-stable items. 
There have also been significant changes in the food manufacturing sector. With food manufacturers shifting production to focus on only basic product forms, and a rise in the demand for some ingredients, like basic kinds of pasta and baking products.
Secondly, COVID-19 is affecting how people spend their money and their time. "Household income is an important driver of demand for food", says Cranfield. "Loss of income means some households may eliminate the purchase of foods not deemed essential, or are too expensive, and may seek cheaper alternatives."
At the same time, new routines forced by work-from-home requirements, school closures, and physical distancing will change how Canadians spend their time and may lead to new food behaviours.
Thirdly, many consumers have resorted to online grocery shopping, as in-store grocery shopping takes more time, and products are moving off the shelves quicker than expected.
"COVID-19 will have different effects across various socio-demographic groups such as the immune-compromised, older individuals, low-income households, and the homeless," says Cranfield. This may lead to food insecurities for these vulnerable groups, who may have to change the type of foods they consume, as they are too expensive, or unavailable due to depleted stock.
Lastly, with the closure of restaurants for sit-down service, consumers are stuck at home and are perhaps struggling with meal planning and preparation. "These challenges may lead to the rise in demand for heat-and-eat food products or meal kits," says Cranfield.
The Harvard T.H. Chan School of Public Health has released some tips to aid consumers with meal planning and preparation. Some of these recommendations include freezing fresh meats, fruit, and vegetables to preserve freshness and preparing soups and stews if there are budget constraints.
"However, too much is changing too fast," says Cranfield. Further data collection and statistical analyses can help us improve our understanding of consumer behavior during a pandemic like COVID-19, he says, which may well help Canadians become more resilient to the disruptions caused by a second wave of the pandemic.
Information for this story was drawn from the article "Framing consumer food demand responses in a viral pandemic," published in the Canadian Journal of Agricultural Economics/Revue canadienne d'agroeconomie, https://doi.org/10.1111/cjag.12234