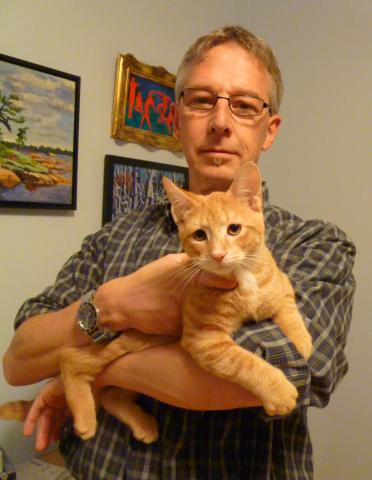 by Alaina Osborne
So many cats have been given up to shelters or left to roam the streets that it has caused a global cat overpopulation crisis – and Guelph is not exempt.
In recent years, the Guelph Humane Society has taken about1,200 homeless cats annually into its facility.  
What's the reason? That's what researchers are trying to find out…and suggest ways to stop the problem.
University of Guelph researchers Dr. Olaf Berke and MSc student Natasha Janke are looking to gather data on Guelph's homeless cats.
"Before we can find a solution, we have to determine the extent of the problem," says Berke.
Guelph's homeless cat population not only includes animals surrendered to the shelter, but also feral cats (those born and living in the wild). Such animals pose environmental, public health and animal welfare issues.
For example, species such as songbirds, goldfinches and chipmunks suffer from increased cat populations. Also, the threat of being bitten or scratched, as well as young children coming into contact with cat feces, is a public concern.                      
The cats themselves are at risk for disease and starvation, and may suffer or freeze to death during the winter.
In shelters, about half of the cats are reunited with their owners or adopted into new homes. But many of those left behind are euthanized due to poor health, which can be worsened or brought upon by living in a crowded shelter.
"Our companion animals seem to have a higher value in our lives than ever before," says Berke, "yet some people still neglect them."
To find out why there are so many cats in comparison to willing owners, Berke is collaborating with Drs. Jason Coe and Tyler Flockhart, who interviewed people who adopted or surrendered their pets. Coe and Flockhart are also looking into estimating the homeless cat population.
Berke will be analyzing when cats are coming into the shelter, to understand if there are certain trends or seasonal swings. He also hopes to contact trap-neuter-return (TNR) groups, who vaccinate and neuter feral cats. This will give Berke an idea of the size of the cat population living outside of the shelter.
The team plans to use this research to help educate the public and teach owners how to properly care for their animals, which includes getting their pets spayed or neutered as well as implanting an ID microchip.
"Our research is a tiny puzzle piece in the bigger picture," says Berke. "The problem of cat overpopulation is a global issue, but with this research, we're getting one step closer to a solution for Guelph."  
This research is supported by the Ontario Veterinary College Pet Trust Fund.