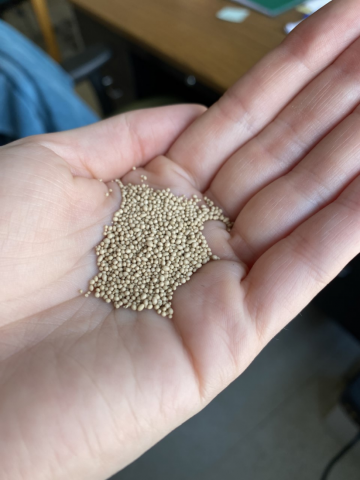 By Katie Kroeze
Finding an effective alternative to supplementing livestock feed with antimicrobials is the focus of a University of Guelph researcher. 
Melissa Williams, a U of G animal biosciences doctoral candidate supervised by Dr. Katharine Wood, is investigating yeast as a substitute for antimicrobial use in feed for beef cattle. Her results suggest that yeast has the potential for similar average daily weight gain in beef cattle as traditional additives. 
Although most antimicrobials used in beef cattle feeds are not the same as those used by humans, consumers are still concerned about antibiotic resistance, Williams says. Some are prepared to pay a premium for meat products raised without them. 
"We want to meet this consumer preference while ensuring animal health and growth are not negatively impacted," says Williams. "Yeast looks like a promising alternative." 
Along with promoting growth, some antimicrobial feed additives also help to control and prevent liver abscess, a common disease in finishing cattle, says Williams, so "it's crucial to find an effective and safe replacement." 
Williams has investigated the potential of yeast additives for the past five years, beginning with her master's thesis research.  
Her earlier studies found that a yeast strain called Saccharomyces cerevisiae decreased feed intake without hindering gut health or growth performance. Yeast additives could save farmers money, she says, as feed constitutes more than half of the annual operating costs of a farm. 
However, she also found that adding the same yeast strain to diets already containing the antimicrobial monensin and the feed additive benzoic acid yielded no additional growth benefits. 
Williams's doctoral research continues to explore the potential of yeast additives in cattle feed.  
She is now comparing the impacts of live and heat-killed yeast in the diet of finishing beef cattle with the effects of traditional antimicrobials. She is looking at different impacts of live or dead yeast on animal performance and carcass traits.  
"Finding an alternative with three-fold benefits — meeting consumer demands for reduced antimicrobials, saving money for farmers, and maintaining cattle health — is ideal," says Williams. "This study could allow producers to meet consumer demands, making beef a more appealing protein source." 
Williams's doctoral research is a joint study with the University of Saskatchewan. Her previous research was conducted at the Ontario Beef Research Centre in Elora, Ont. 
This research is funded by the Ontario Ministry of Agriculture, Food and Rural Affairs through the Ontario Agri-Food Innovation Alliance, AB Vista, Canadian Cattleman's Association and the Natural Sciences and Engineering Research Council.